€37.9bn of VC funding raised, 21 IPOs, 15 new unicorns, 1,933 seed rounds and 181 VC funds raised later, 2020 is over for Europe.
But what's behind all these numbers? We've cast our eyes back over hundreds of Sifted articles and reports to find the most striking datasets that tell the real story. 
Take a look at the year in review with 10 of our best below: 
1. The number of funding rounds almost halved in 2020 while total VC funding increased
The number of European funding rounds almost halved year on year  — 8,407 in 2019, compared to 4,982 in 2020 — but the total amount raised has exceeded 2019 at €37.4bn vs €37.9bn in 2020 to date. Put simply: fewer rounds, but bigger rounds. 
We've visualised the progression of 2020's raises in the bar chart race above. Of the top ten European countries, the UK raised the greatest number of rounds at 1,508, ten times more than Italy's 135 and more than France and Germany combined. 
Sifted and CircleCI's recent report showed that on average the size of Seed and Series A rounds in Europe have increased this year by 28% and 40%, respectively. 
2.  Tech companies were hiring more in 2020 despite Covid-19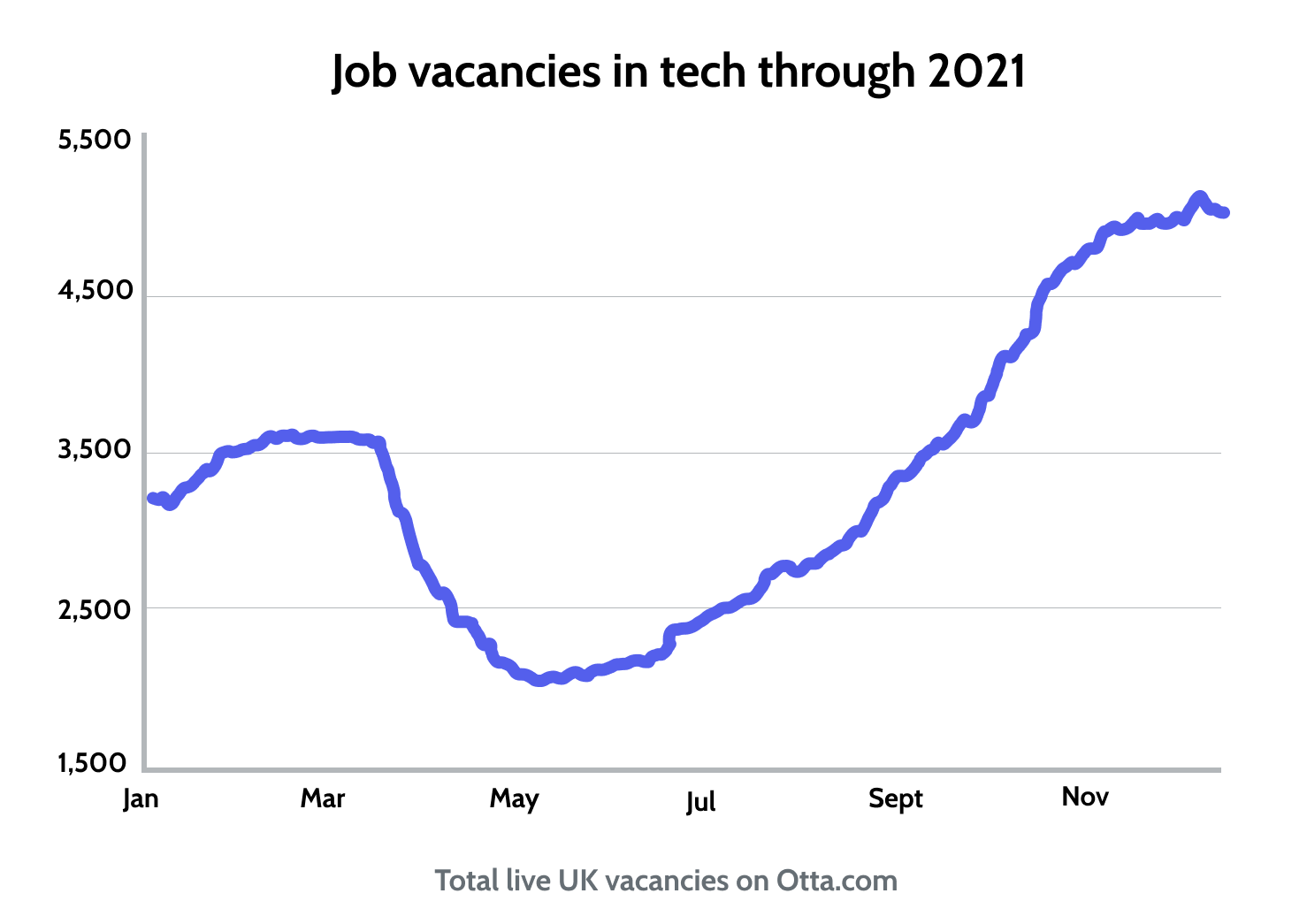 Covid-19 has impacted every aspect of the economy, but none more so than how we work — and who is hiring. 
Across Europe, many tech companies stopped recruiting when lockdowns were first announced, as startups looked to cut costs and extend their runways as far as possible.  
But in the second half of the year, tech vacancies have rebounded in the UK, according to data from job platform Otta, with startups having adapted their business models, raised capital, and found confidence in the now contemporary art of remote hiring. 
Sifted Newsletters
Sifted Newsletter
3x a week
We tell you what's happening across startup Europe — and why it matters.
3. These were the 10 biggest VC raises of the year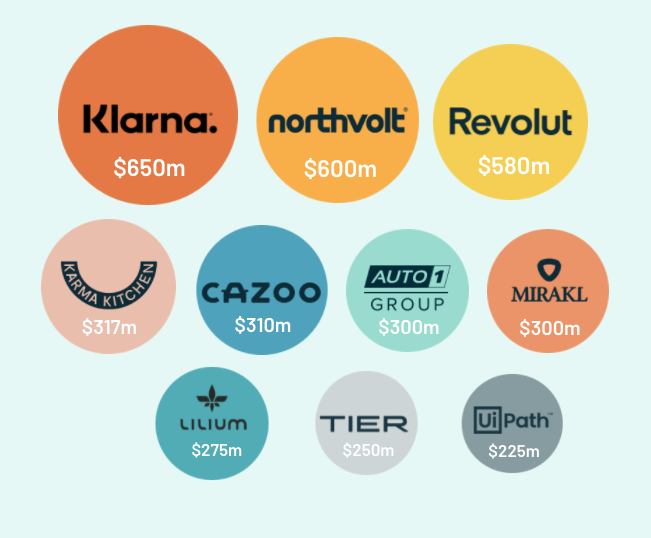 Klarna, the Sequoia-backed Swedish fintech, takes the crown with Europe's largest VC round of 2020 after a monster $650m raise in September. It also raised $200m in January — almost making the list twice in the very same year. 
Online used car retailer Cazoo is the youngest company to make the top 10, led by serial entrepreneur Alex Chesterman, who co-founded and exited both Zoopla and LoveFilm. 
Scooter operator Tier and kitchen rental startup Karma Kitchen are youngsters too; all three businesses were founded in 2018. 
4. Europe minted 15 new unicorns in 2020 
In 2020 Europe created at least 15 new unicorn companies valued at $1bn or more. 
Hopin, a virtual events platform, was the embodiment of the 'Covid unicorn'. The company hit a stunning $2.1bn valuation only 8 months after launch with $20m in ARR, driven by the rapid need for digitised events. In comparison, it took Zoom around three years to reach the same revenue. 
Some VCs have described them as one of the fastest growing startups, ever. 
5. The year saw a boom in SaaS startups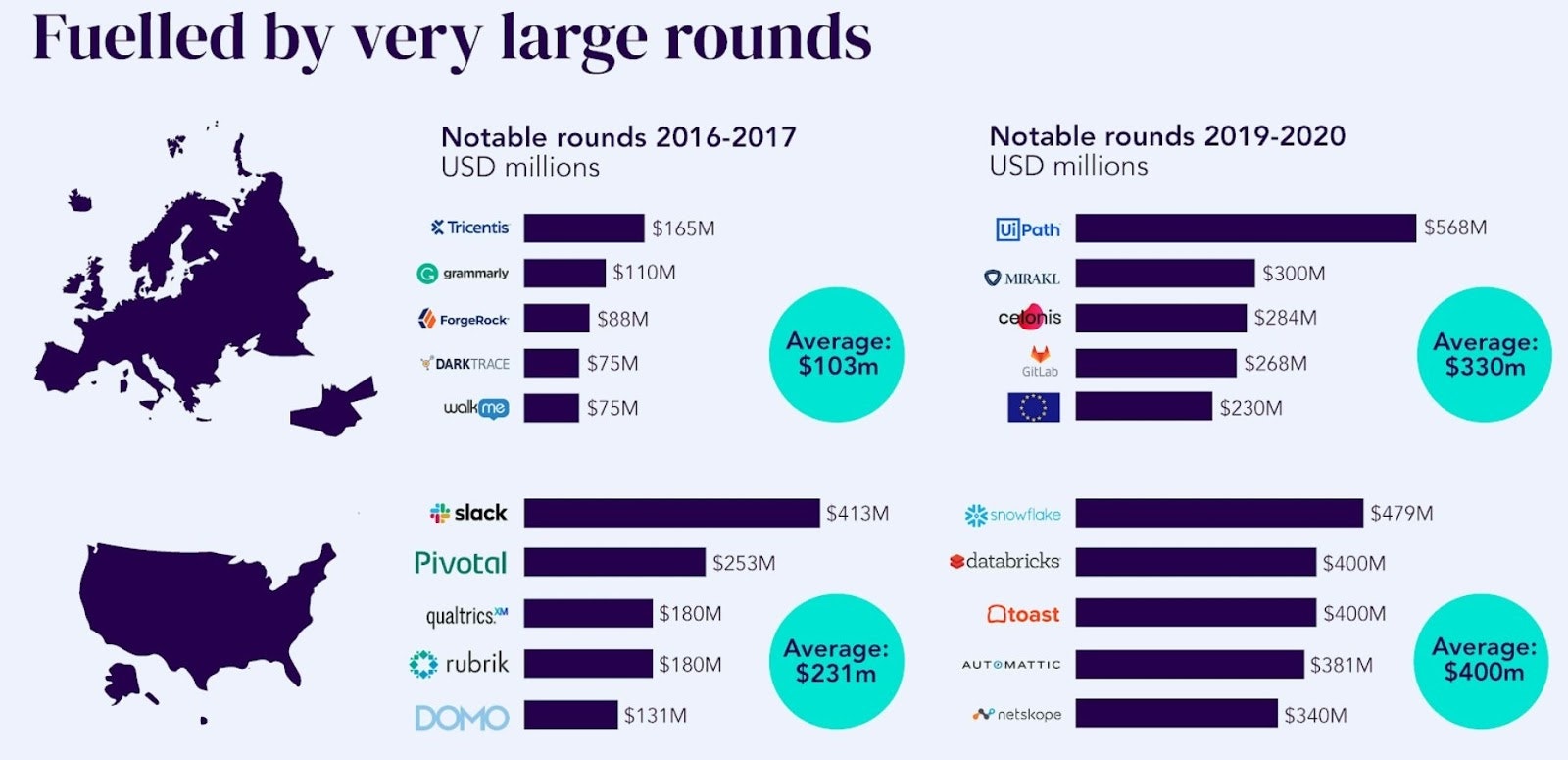 Marc Andreessen once said that "software is eating the world". 2020 was perhaps the year when software saved it. 
With the onset of Covid-19 and the accelerated digitisation of all of our working lives — tech and non tech workers alike — it was SaaS tools like Slack, Zoom and Hopin that made virtual collaboration a reality for all. 
European SaaS businesses rode the crest of this wave, with Romania's UIPath becoming a 'decacorn', meaning a privately held company valued at more than $10bn. Adyen and Spotify, both founded in 2006, ascended to the ranks of the sixth and seventh most valuable public European tech companies, with market caps peaking beyond $60bn. 
Accel's 2020 Euroscape report has more on SaaS in 2020.
6. These were the 10 Biggest Series A rounds of 2020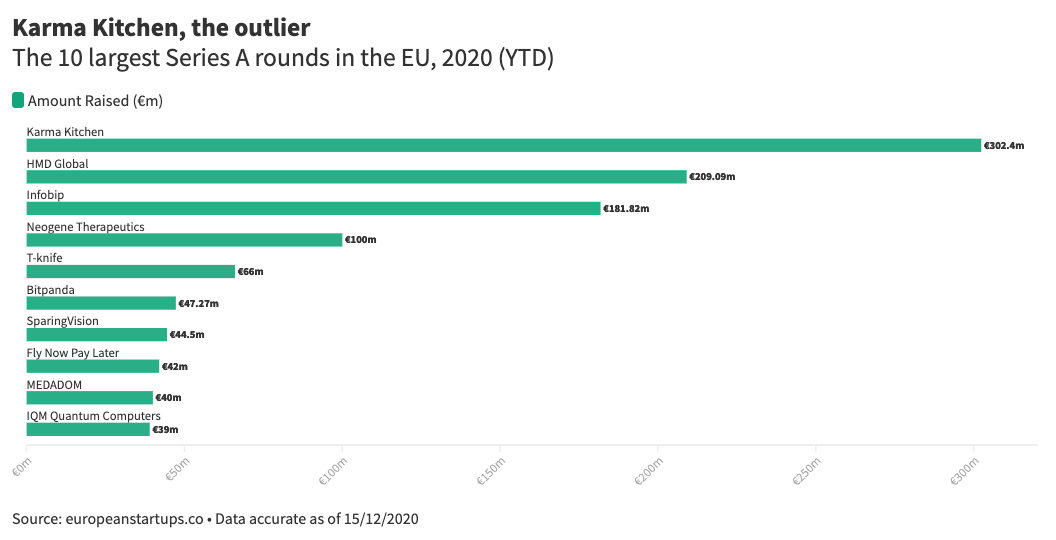 Dark kitchen startup Karma Kitchen raised by far the largest Series A of 2020, pipping Google-backed HMD Global by almost €100m. 
Cofounders (and sisters) Gini and Eccie Newton only set out to raise £3m. After the involvement of a real estate management firm, they struck an ambitious £252m deal to provide flexible kitchen space to businesses across Europe. 
As cofounder Eccie explained it: "It's not a typo".
Karma Kitchen is an outlier in more than one respect. In 2020, only 15% of European funding rounds had one or more female founders, according to data from European Startups.
7. The 10 Biggest seed rounds of 2020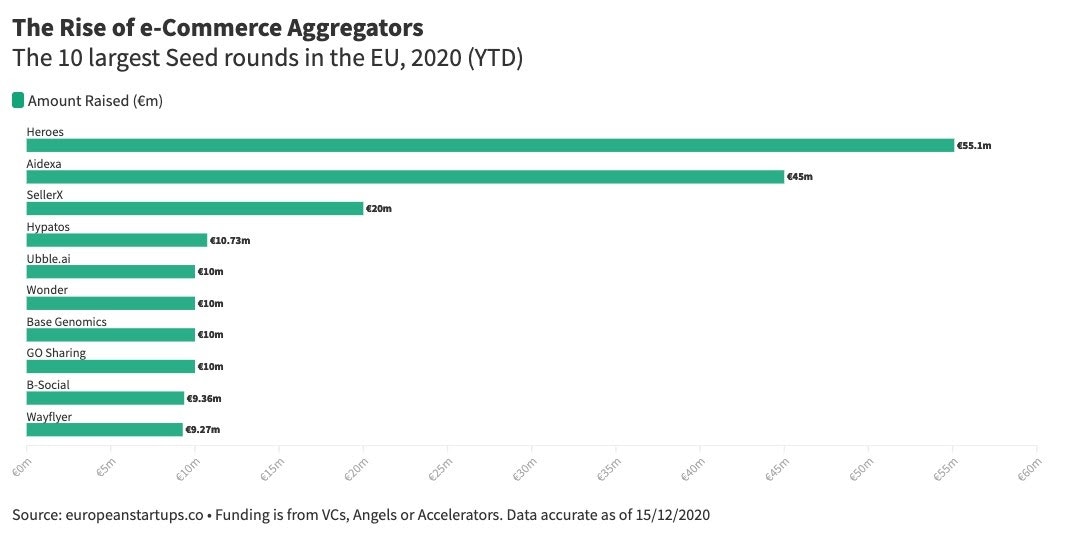 Identical twins Riccardo and Alessio Bruni exited stealth mode with a not so stealthy bang this November, raising 2020's largest seed round at €55.1m for their startup, Heroes.
Heroes, which buys up successful Amazon FBA sellers' businesses, says it is creating a conglomerate of shops selling anything that wins and scales. It's part of a broader trend of highly capitalised startups consolidating ecommerce — Amazon's marketplace is not for mom and pop sellers anymore. 
Berlin based SellerX, which does exactly the same thing as Heroes, also raised €20m in seed equity this year — or €100m total including debt.
8. What's been on founders' minds this year?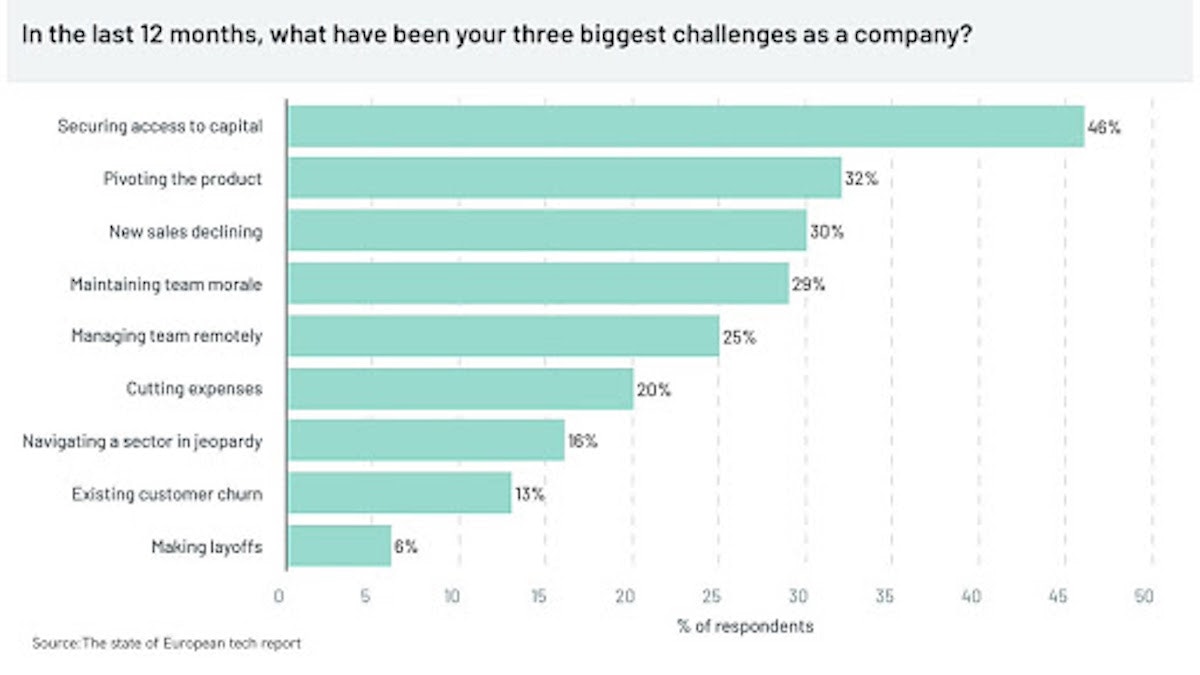 In their mammoth State of European Tech report, VC firm Atomico surveyed founders to identify their most pressing concerns in a concerning year. 
Topping the list as the biggest challenges faced by their company were access to capital (46%), pivoting the product (32%) and new sales declining (30%). 
9. European tech is heading to the public markets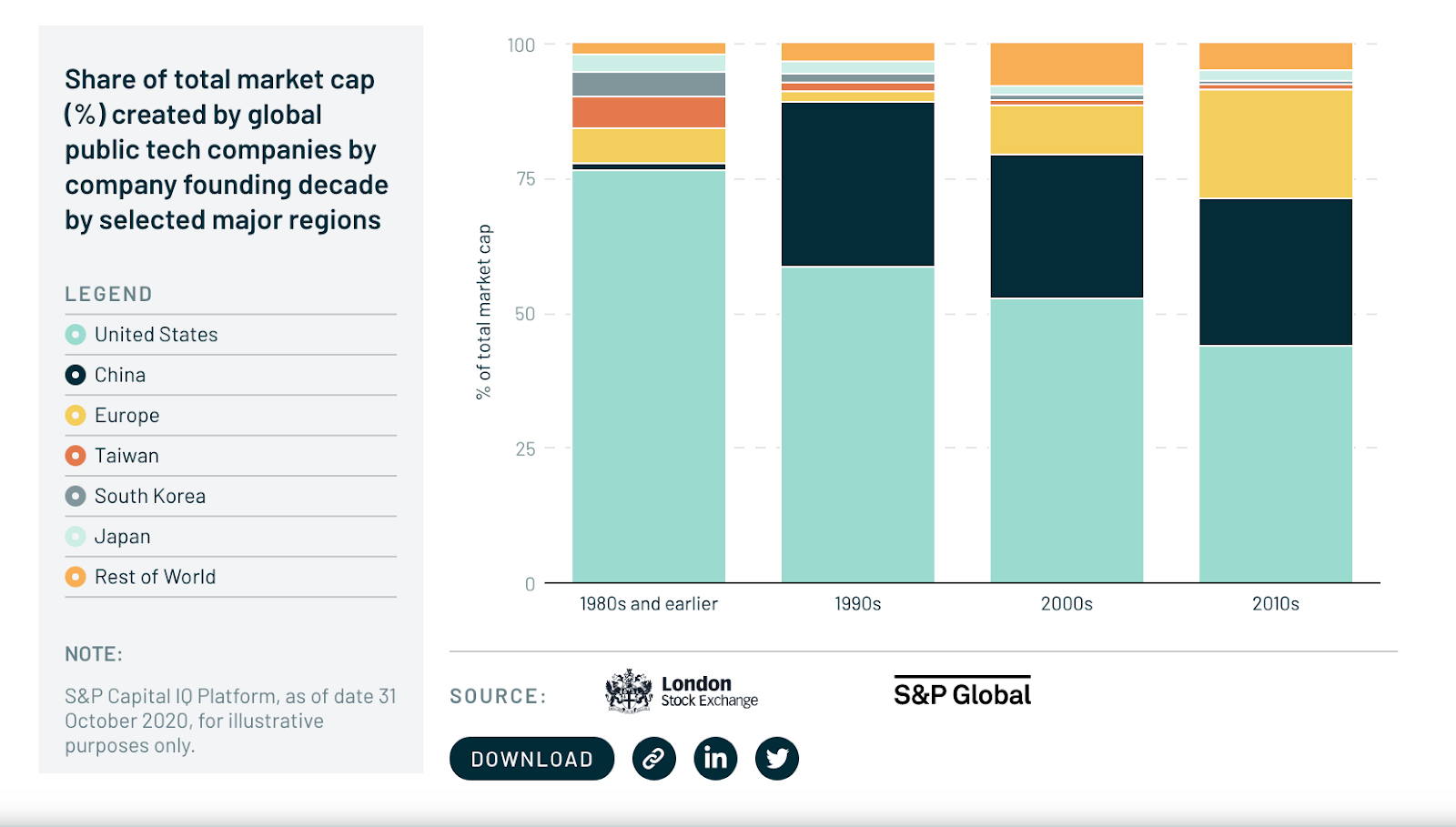 This might be a year in review, but it's worth taking a step back and to look at the decade, too.  
Europe is catching up in publicly listed tech companies. Another gem from Atomico's 2020 report shows the percentage of total market capitalisation of tech companies by region, and the decade the company was founded in. 
Comparing the 2000s and 2010s founding cohorts, Europe has more than doubled its share from 9% to 20% of market cap created by public tech companies. 
Notable recent success stories include the IPOs of e-commerce platform The Hut Group, Peter Thiel backed Compass Pathways, and Polish online marketplace Allegro which impressively took in no VC cash. With the creation of so many new unicorns, Europe is poised to take even more share when some of them IPO.
10. Healthtech had a record year in 2020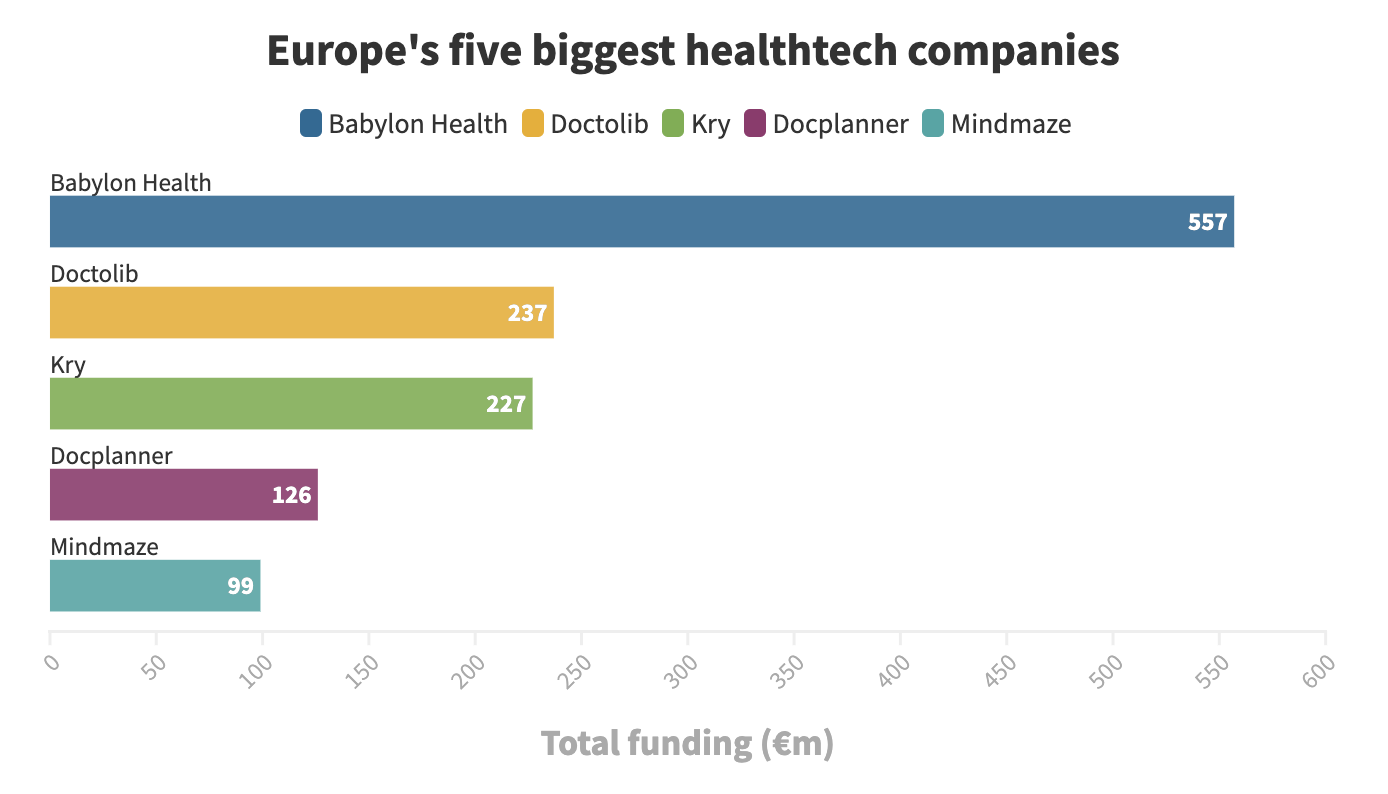 Covid-19 has prompted an acceleration in the telemedicine craze as doctors have been forced to do more consultations by video call, but also a wider adoption of technology by the medical profession. 
So it has been a big year for remote doctor companies such as Kry and Babylon Health but also AI augmented disease detection companies such as MindMaze and vaccine makers such as Germany's BioNTech.
Healthtech startups acquired swathes of new users and raised a record amount of capital this year — and deservedly so.