When Dennis Müller heard the news that Creandum, a European early-stage VC firm, was going to plug €1.2m into his fledgling company, Amie, he felt a surge of excitement.
Just 24 hours before that, Müller was in Stockholm pitching his idea to the Creandum team — which is spread across Berlin, Stockholm and San Francisco.
"I was in meetings for six hours, and they fired a lot of questions at me. I didn't even have a pitch deck," explains Müller, a 23-year-old ex-N26 product manager. "The next day, I met the Berlin team in person and they told me they wanted to invest."
That makes Müller the youngest founder Creandum has backed to-date — Daniel Ek, Spotify's founder, was a mature 25-years-old when the VC firm backed him.
Can he be anywhere near as successful?
From lunchtime meet-up to VC deal
Amie, which was founded earlier this year in the German capital, and is expected to publicly launch in 2021, is developing a productivity app that combines a person's calendar with their to-do list. The app is designed to act as a central workspace, where users can join video calls, take notes and write and send emails — without the need to open extra browser tabs.
But Creandum hasn't backed Amie so much as Müller.
"Dennis has an exceptional level of passion and entrepreneurial spirit. You can really feel it when you meet him," Creandum's Peter Specht, who closed the deal with Amie, tells Sifted. "His thinking is very user-centric and he's obsessed with design and user experience."
"These qualities contributed significantly to our decision to back Amie," he adds. "At this early stage, the team is the most important component."
At this early stage, the team is the most important

component.
Striking up a relationship with a VC isn't always straightforward for startups. For Müller, it happened almost by chance.
Sifted Newsletters
Sifted Newsletter
3x a week
We tell you what's happening across startup Europe — and why it matters.
After spending the summer of 2019 travelling the US, Müller landed in San Francisco. At the time, Amie was just an idea that he'd been ruminating on since his time at N26 — and he was keen to raise some cash to help the process along. 
In September, Müller signed up to Lunchclub, an app which pairs people up for 1:1 meetings to help them grow their professional network. As fortune would have it, Müller was matched with an investor in the Bay Area.
"We had a really nice chat over a coffee and after that we stayed in touch," he says. "When I returned to Berlin [via South Africa] a few months later, she suggested that I meet her friend Peter from Creandum."
By this time, Müller was equipped with a grand vision and an MVP [minimum viable product] which he had built himself while spending some quiet time alone in Cape Town. 
"That was the most important part of my journey," says Müller. "At the tail end of my travels in the US, I realised that I had an idea, but I wasn't doing enough to get it going. So I booked a flight to Cape Town 37 hours before takeoff and when I got there, I disconnected from everything."
From Monday until Sunday every week, Müller couldn't be reached. In fact, he didn't even have a phone number. Without any distractions, he was able to fully develop his ideas.
Specht met with Müller shortly after he returned to Berlin: "We instantly got excited about the product vision and Dennis' unique thinking around productivity workflows. A week later, we had a signed term sheet."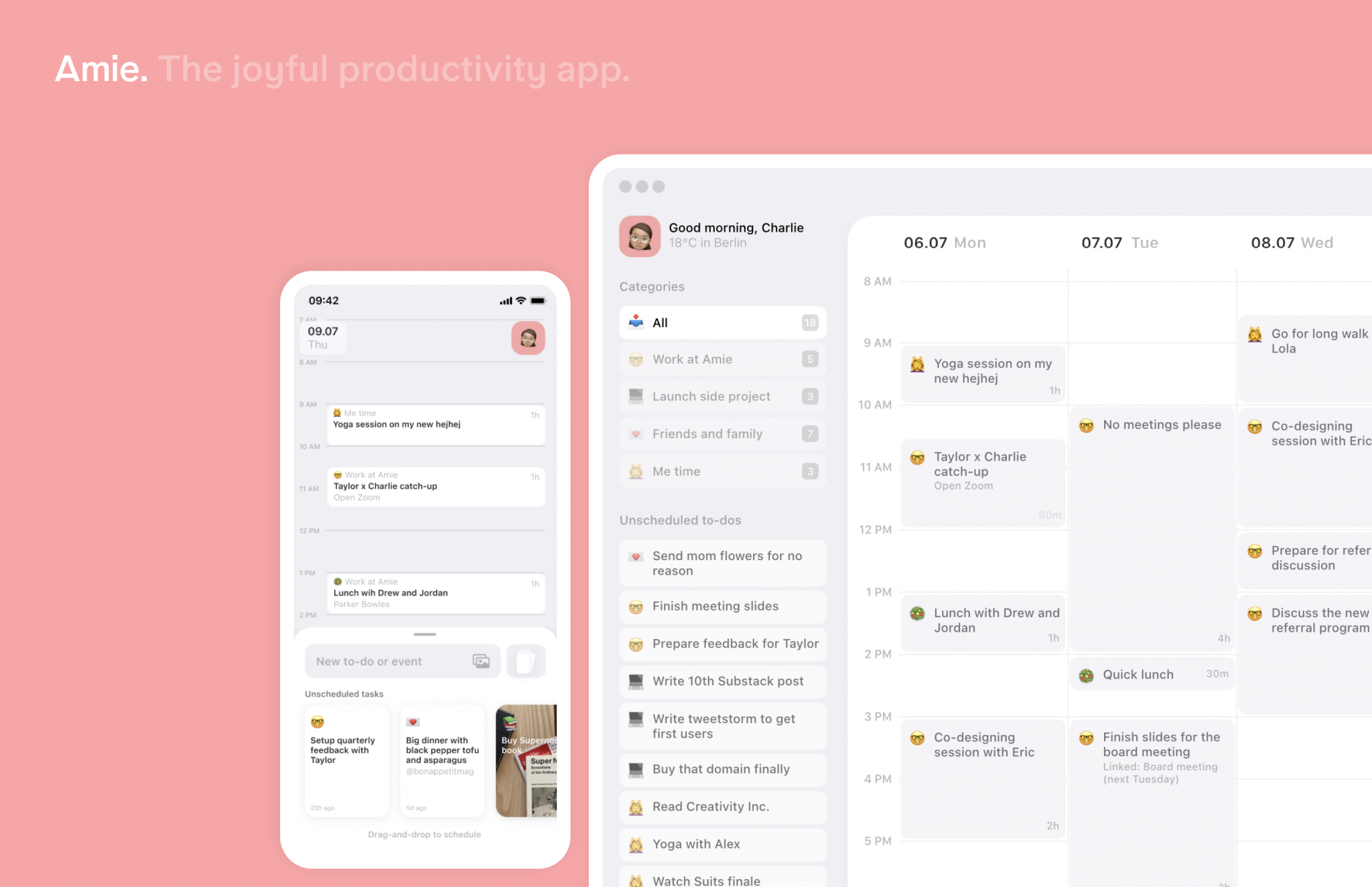 "Everything is a to-do"
Müller spent much of 2019 trialling several self-optimisation methods: including ways to set, and achieve goals, increase his productivity, and improve his physical and mental health. But he was lacking any coherent way to keep track of his personal development. His Google spreadsheet, where he tracked his habits and longer-term goals, just didn't quite cut it.
"I had two key realisations when I was in Cape Town," says Müller. "The first was that everything is a to-do: whether it's a concert, a meeting or a haircut. And all of these events are units of time that we spend achieving that to-do."
The second observation was that all to-dos need to be scheduled. "I get the most work done when I operate off my calendar. If I assign a task to a specific time of day, it's more likely I will complete it," Müller adds.
Amie is all about helping people bring their ideas to execution. The way Müller sees it, every to-do has a broader goal behind it — and helping people tick tasks off a list takes them one step further to achieving those goals.
Standing out from the crowd?
Amie has emerged at a time when the productivity space is booming worldwide. 
According to GlobeNewswire, the productivity software market is expected to grow by 16.5% to reach $96bn by 2025. And, the US is predicted to dominate the market, with a market share of 60.7% in 2025.
This is hardly surprising: many of the key players in the productivity space such as Slack, Trello, Asana and Click Up (which has recently raised a whopping $35m from Craft Ventures) are based in the US. But the European market is beginning to show potential too.
In Berlin, where Amie is based, a new project management software, SuperList, was launched in May this year by Christian Reber, who previously founded discontinued task management app Wunderlist. Reber said on Twitter that Superlist, being "more than just a to-do", will provide a "fresh new take on supercharged team productivity". 
Müller isn't sweating the competition though. In his view, Amie's main competitors are Google Calendar, which many people use to schedule in to-dos, a handful of calendar and to-do apps, as well as the old-fashioned pen and paper. 
The number of productivity apps that are continually being created show that consumers aren't satisfied with what's out

there.
"The number of productivity apps that are continually being created show that consumers aren't satisfied with what's out there," says Müller.
Specht agrees: "People's quest for increased productivity continues to be massive. However, the solutions they use to manage their time and tasks still involve a lot of friction in workflows. Amie has a very strong focus on design with an interface and workflows that feel intuitive."
"We're obsessed with getting the small details — like the animations and transitions — absolutely right," says Müller. "These are the things that make the iPhone popular. Without them, it would just be a piece of aluminium."
The app's ease of use is also down to its simplicity, says Müller. Taking influence from successful apps like WhatsApp, Tinder and Spotify — which all have minimal functions — Müller has designed Amie to be as streamlined as possible.
 "Otherwise consumers just get confused with all the features — which ends up hindering, rather than helping, users' productivity," he explains. 
A 'progressive' team culture
So far, Amie has been operating as a small but mighty team of four. Now, they're hiring.
Committed to doing things a bit differently, Müller is focusing less on what a candidate's CV looks like, and more on what ideas they bring to the table. For example, he recently made his interview questions public on Twitter, to help him get to know candidates more deeply and understand their thinking.
"The only indication a CV gives is if someone can create a coherent document," says Müller. "We're just getting started building a process on the principle that it's half us assessing them and half them assessing us."
"We care about every person," he adds. "No one gets a pre-written rejection, and every candidate we speak to gets feedback. Also, every person we make an offer to gets a set of reasons why we would love to work with them."
According to Specht, Müller is focused on building a progressive company — "one that puts team culture at its heart, and makes every employee a key part of the firm."
"Every person gets stock options, no matter the role," says Müller. "They also get two offers to choose from: one prioritising cash, and one prioritising stock options."
Müller isn't concerned about securing early wins, but about achieving long-term success — which is why he's taking so much care over the hiring process. His agenda for the future includes expansion: not just in Europe, but in other continents too. And, he's also building his company with an IPO in mind.
"It's totally possible to create a world-class product out of Berlin," says Müller. "You just need to bake it into your team culture from the start."