Europe's micromobility revolution is zipping along, with e-scooter services, ride-hailing firms and bike- and car-sharing schemes all growing speedily. But there's another player worth paying attention to: direct-to-consumer e-bikes. 
Today Belgian electric bike startup Cowboy's two-wheelers go on sale in the UK, Spain and Italy. Customers in France, Germany, Austria, Belgium and the Netherlands have already ridden over 3m kilometres on its bikes and now it wants to clock up quite a bit more distance.
Like many direct-to-consumer brands before, two-year-old Cowboy is hoping to convince people that its seemingly dull product is actually very desirable. Warby Parker made eyewear trendy, Away made suitcases sexy — and Cowboy wants to make e-bikes cool. Commuter cool. 
Capturing commuters
Adrien Roose, chief executive and cofounder of Cowboy, is quite clear about who his customers are not. They're not cyclists.
That is, they're not the kind of cyclists who hit the roads in lycra at the weekend. Instead, they're the kind of people who might just be encouraged to cycle to work, rather than catch a bus or a train or drive, if they didn't have to break a sweat. "They don't want to do sport," says Roose: the average journey on a Cowboy bike is just 5km. 
They're also not, as many assume, old: Cowboy is targeting 30-40 year-olds who live in big cities. Its Instagram account looks more like that of a fashion brand than a bike manufacturer — nobody is wearing padded shorts and nobody is wrinkled.
Early customers seem to care about looks too. Cowboy received requests to add a mudguard to its bikes — but not one of the "ugly" options on the market; customers wanted a custom-made Cowboy mudguard. Cowboy acquiesced; a mudguard will be launching in a couple of weeks.
For the bike itself, Cowboy worked with Swedish industrial design agency Propeller to design a model that would convince a younger demographic that e-bikes aren't just for less-fit people. The result is a bike that is convenient to use, with built-in lights and a removable battery. 
Sifted Newsletters
Sifted Newsletter
3x a week
We tell you what's happening across startup Europe — and why it matters.
For now the majority of its customers are men, as the frame is too big for most women. "It's one size fits most," says Roose, who adds that the next product Cowboy makes will be a smaller model. 
It's also considering making a "comfy one" and a cargo bike, for parents to carry kids around in. But that would be it, says Roose: "We want to focus on three to four products." 
Cowboy also won't be tempted to partner with any shared mobility companies, although Roose says he has been approached by some asking him to design a shared e-bike. "We considered it but it's a different use case," he says. 
Direct-to-consumer playbook
When it comes to picking up customers Cowboy's following a well-trodden path. 
Like many direct-to-consumer pioneers, most notably US eyewear startup Warby Parker, Cowboy has been experimenting with opening physical stores. So far it's run four pop-up concept stores — the latest, and most adventurous, featuring a test track inside an old warehouse in Molenbeek, Belgium.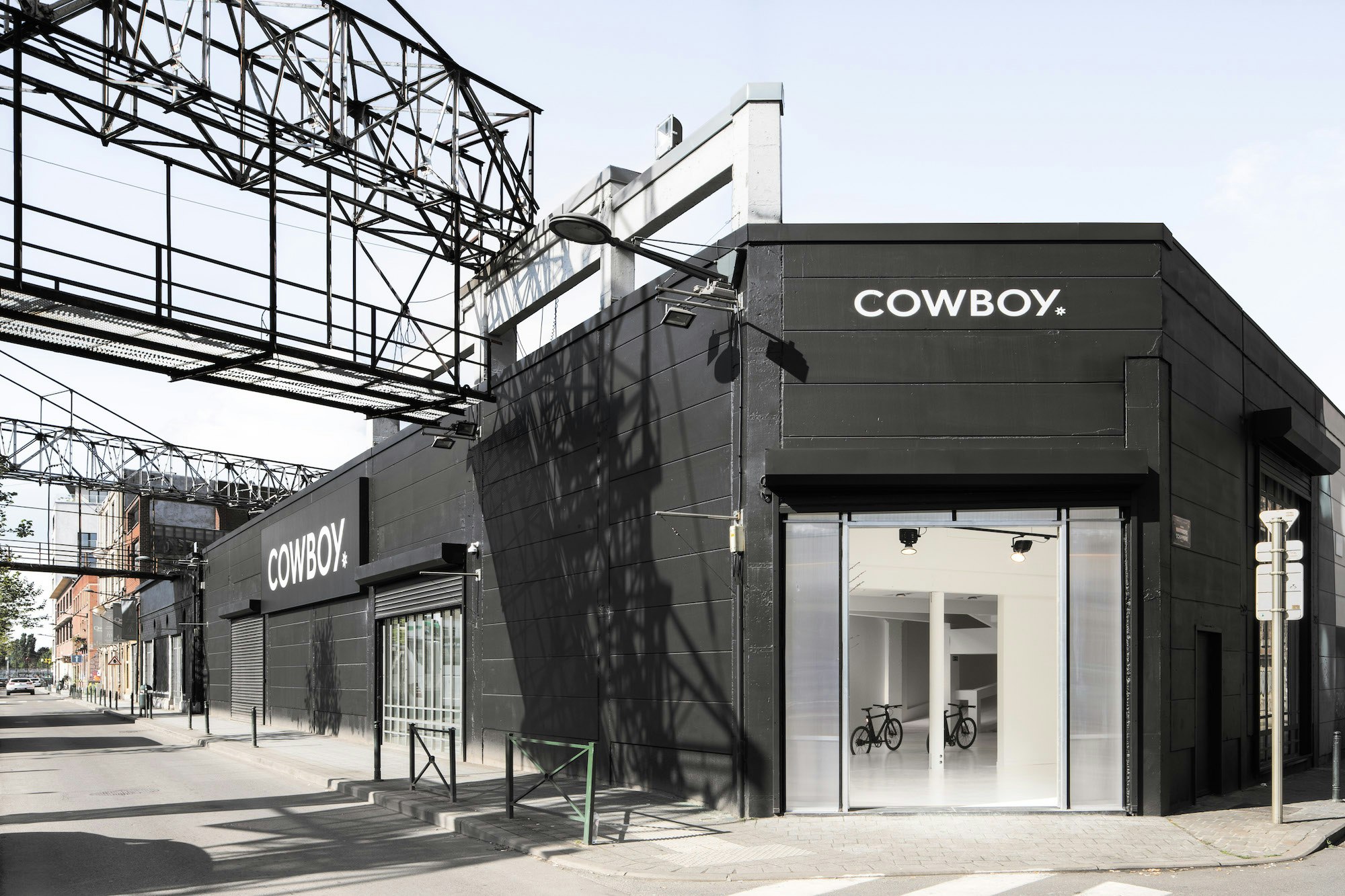 These pop-ups are good for building trust, says Roose, but don't translate into massive sales. 8% of Cowboy's bikes have been bought at stores; 85% of purchases have been made online. Cowboy's biggest competitor — Dutch e-bike maker VanMoof — also runs a handful of "brand stores" across the world.
Cowboy also has a network of ambassadors across its live markets. Potential customers can book a free 30 -minute session with these freelance "test riders" to chat about the bikes and give them a test ride (one-third of customers do so.)
Hardware hardships
Before launching Cowboy in 2017, Roose and his cofounder Karim Slaoui founded food delivery startup Take Eat Easy. But it closed in 2016, faced with tough competition. 
Moving from software to software plus hardware has forced quite a change of thinking says Roose. Mistakes carry much bigger risks with hardware. "You can't update [a bike] remotely," he says. Instead, Cowboy had to gather feedback about its first model from customers and then make nearly 200 tweaks to the design before producing the latest version. 
It also takes a lot more to push customers to purchase; trying out a new delivery service for the first time doesn't cost much, while buying a new e-bike at €1,790 takes a much bigger leap of faith. That said, Cowboy's bikes might not seem cheap, but they are considerably cheaper than competitors' models (VanMoof's e-bikes cost $3,398). They also have less than a 1% return rate, says Roose.