This roundup first appeared in our weekly Monday newsletter. If you'd like to get this straight to your inbox each week sign up here!
________
1. German unicorn N26 is struggling to lure UK customers
Berlin-based digital bank N26 is a big fish. It's raised a whopping $670m and it has 4.5m users globally. It's been first off the block in the US, where it's leading the way. But there currently seems to be a hole in its success story, and that's in the UK.
N26 launched its digital bank in the UK last October. But fresh data shows that N26 is far behind its local peers in terms of monthly active users (MAUs) and downloads so far this year.
Among British fintechs, N26 ranks 19th by MAUs, according to data from iOS and Android users.
N26 even falls behind US crypto exchange app, Coinbase. Although the exchange has something of a monopoly in the UK in terms of regulated offerings, it's jarring to think crypto trading and storage is more popular than a digital bank.
N26's late arrival in the UK goes some way to explaining its smaller monthly user base. But download data also ranks N26's app in 16th place for the fintechs; a metric which should forgive a late start and ultimately contradicts its "high-growth" narrative. It also suggests only moderate success for the intensive advertising campaign it ran across UK tube stations earlier this year.
Overall, leading the charge is Monzo, followed by Revolut and Starling, which recently hit the 1m user mark in the UK. Compared with the MAU figures for 2018, Monzo climbed one place, while Starling made it into the top 10 for the first time.
"Having only set out in the UK just over a year ago we're still only at the beginning of our mission to bring a better, more personalised banking experience to UK customers," Will Sorby, N26's UK general manager, told Sifted in response to the figures.
But local users don't seem to agree; N26's user-experience ratings put it behind its three UK peers, creeping below 4* on average.
Sifted Newsletters
Fintech
Every Tuesday
From banks to bitcoin, get all the gossip and analysis in your inbox.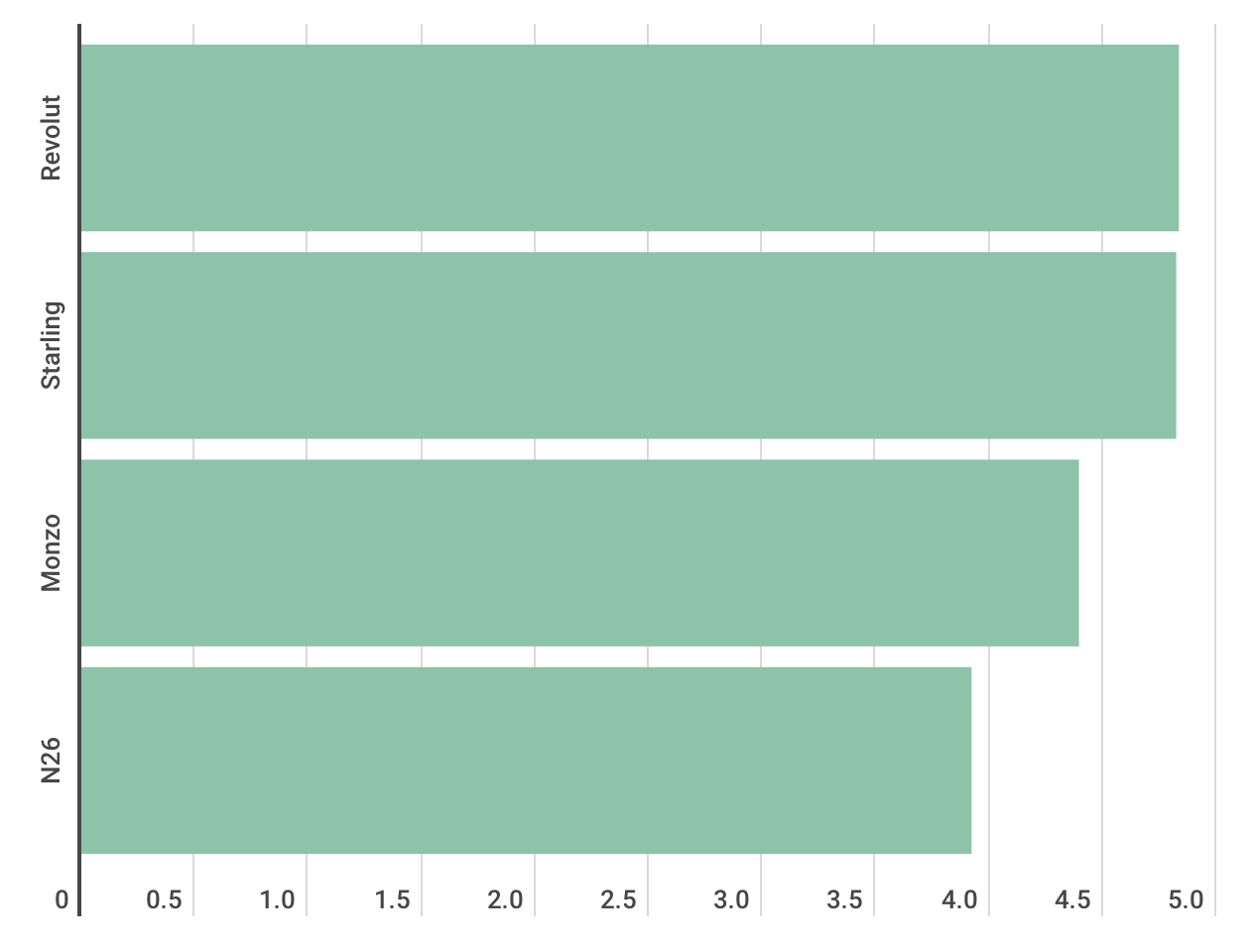 These figures aren't flattering when employing the 'userbase size is everything' mantra. Perhaps differentiation has been a struggle — despite its enormous war chest.
But let's take a step back. What's important ultimately for N26 is not an inflated userbase; it's a customer base that pays for itself and does not put an endless strain on its financials and user-acquisition budget.
Indeed, N26 has the benefit of having a pay-to-use premium offering, which compensates somewhat for its smaller market share.
"[We're targeting those] who a bit more premium, a little bit older, a bit more mature," N26's Sorby told Sifted in April.
So even if N26 stays in 19th place, a chunk of its (small) user base could be profit-generating, while its peers still lose money on average per customer. Indeed, N26 says 30-35% of its customers worldwide are Premium users, although it declined to break down the numbers for the UK.
Ultimately, you don't have to be everything to everyone, and a smaller fee-paying crowd could be a sustainable model.
N26's general manager in Germany, Austria and Switzerland, Georg Hauer, also told an audience in Berlin earlier this month that the company was more concerned with "engagement" and time spent on its platform than with raw user numbers.
This perspective offers some consolation given the data shows N26 does not currently have mass appeal in the UK.  But either way, N26 has made more of a ripple than a splash there so far.
This might also serve as a warning to other fintechs who are belatedly entering London's saturated market...
2. Curve stays quiet amid allegations of user inflation
Hands down the juiciest fintech report last week was Business Insider's scoop about London-based fintech Curve.
The banking platform raised more than £6m ($7.7m) in crowdfunding earlier this year, telling investors they already had "more than 500,000 customers". But Business Insider reported that leaked data suggests just 14% of those customers were using Curve in the month of May.
Curve did not respond to Business Insider's request for comment.
When approached by Sifted, the company noted the leaked numbers were from "a long time ago" and did not see a need to resolve it. When asked for updated numbers, they said MAUs were "just not a metric we're looking to disclose".
Curve is currently ranked 22nd by downloads in the UK, using the same data tools as above (January and October 2019). It's 17th by MAU — one place behind N26. This at least suggests there's a divergence between download numbers and continued usage.
Look, I'm not going to lie, I don't fully understand Curve's business proposition either (and I've spent hours with the people in charge). Apple/Google Pay seems to make it redundant for users like me. Even the cashback doesn't justify the monthly cost of a premium card. 
But I get the feeling that Curve might have some elite value-case — like lounge access. If its 70k active users in May are wealthier customers who were loving it, great. If they're finding user value in it where I can't, amazing.
Still, sources close to the company say the minority are paying users. That means the company does need to chase a mass userbase if it's to generate revenues from alternative channels, like data aggregation.
Curve will also want to show it can lure in a growing number of users for its next round of fundraising, where it will need to raise at least double its current valuation of $250m.
Clearly investors will not ask for the user numbers — but for the level of activity among those users. 
3. NatWest's Bó is off to a rocky start - but don't rule them out
NatWest's digital bank offering Bó officially launched last Wednesday.
It's been a little anti-climatic, with a string of critical reviews on the App Store and reports that 30% of early sign-ups were by fraudsters. On his latest podcast the chief executive of fintech consultancy 11:FS, David Brear, has already publicly predicted that NatWest will close the £100m experiment within 36 months.
But let's put all this in perspective a bit:
1. NatWest made the point about fraudsters themselves in the press briefing, noting it's common for criminals to target new banks. Allegedly the same happened to fellow digital banks. Don't get lost in the click-bait.
2. Yes, the accent on the O is weird. Luxury fashion chain Céline recently dropped the accent on its branding, perhaps finding it too cumbersome. But anyone typing in Bo instead of Bó will still be able to find the bank, so it's not such a big deal.
3. Yes, Bó imitates many features from Monzo and Revolut. But the key differentiator is it's focused on "money-saving" tips. Don't underestimate what that might mean to the silent majority; 11.5m UK residents have less than £100 in savings, forcing people to get pay-day loans. Tech gimmicks don't appeal to everyone and if Bó can brand itself as an educational, trustworthy tool it could build a strong following.
In other news:

Peer-to-peer lender Zopa is in trouble. The respected UK fintech is reported to be racing against the clock to secure the funding they need to keep their preliminary banking licence. They have until this Wednesday to raise capital requirements of between £100m and £150m. As a result, Zopa's major investor Augmentum — the UK's first publicly-listed fintech fund — delayed reporting of its financials over uncertainty about the value of its stake in one of its largest holdings. Still, the fund told Sifted for its part "the business is doing well" and — excluding Zopa  —it expects a small boost to the adjusted net asset values of its investments. Read more about challenger lenders here.