The festive period is here and that means a few things. Sprouts are back in season, embarrassing music tastes get laid bare by Spotify Wrapped — and Atomico's State of European Tech report is out.
On the good side it's been a bumper year in the region. Private funding is triple last year's record levels, and unicorns are springing up faster than ever before. Europe is cementing itself as a global B2B startups powerhouse and crypto is finally taking off. 
On the not-so-good side, women-founded startups received their lowest share of the spoils in five years — and there's major work to be done to diversify where all that money goes to.
For those of you that don't have a whole afternoon to take a leisurely spool through the report, here's everything you need to know about startups, investors and money in European tech in 2021. 
Funding levels and megarounds
1/ European funding hits €100bn 
Funding into European tech has increased… a lot. Projections suggest that total investment for 2021 will hit more than $120bn, nearly three times as much as was raised last year. 
The meteoric rise is down in part to the pace of investment picking up; the first three quarters of 2021 were record breaking in terms of capital invested, as the region saw interest from global VCs ramp up and megarounds become the norm.
The amount of capital pumped into $250m+ rounds grew by about 900% in the first nine months of 2021 to $40.1bn, as the deal count shot up from 11 in 2020 to 57.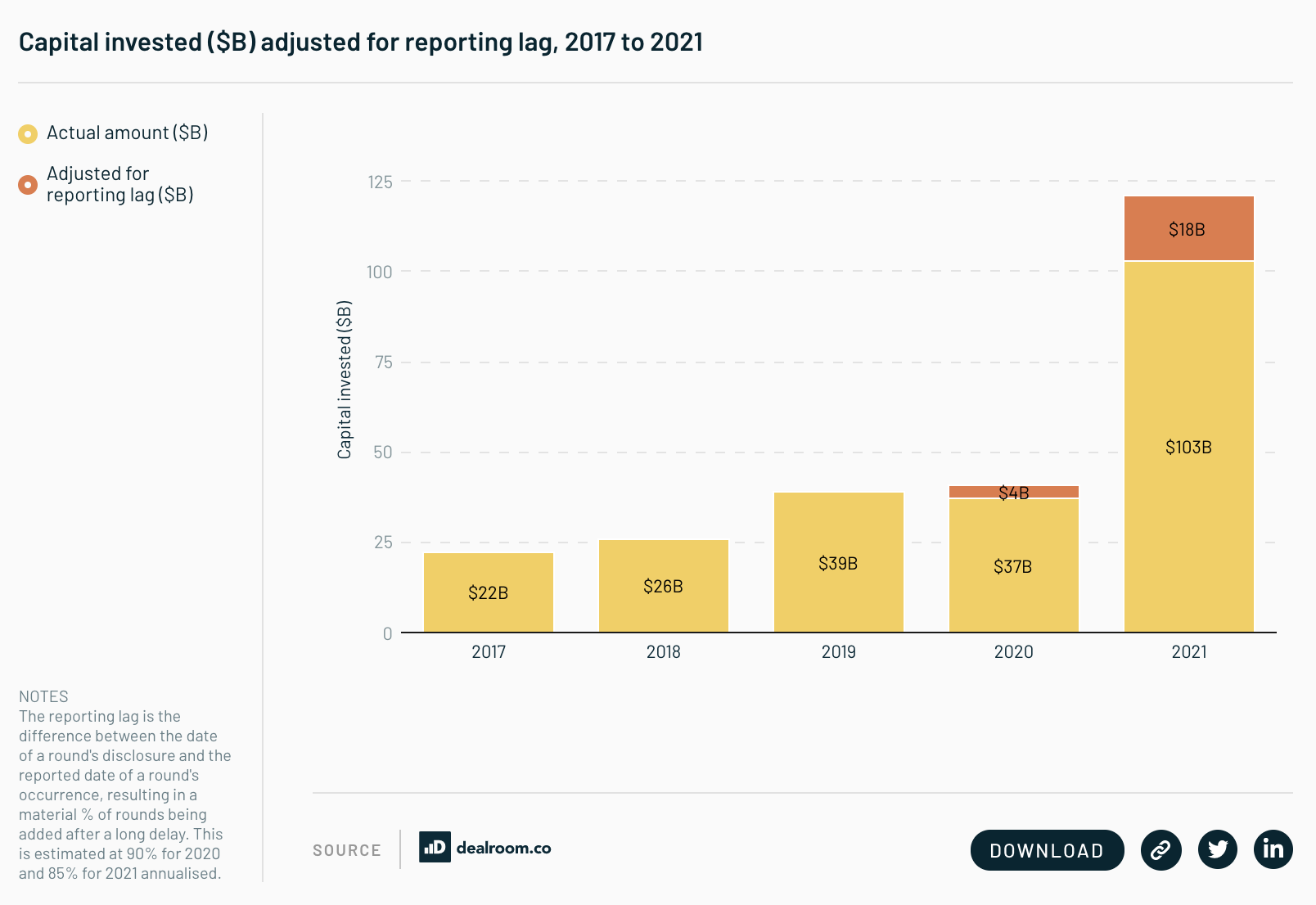 2/ Northvolt took the top spot for biggest round raise for the second year running
Sweden's sustainable battery startup Northvolt came home with the biggest cheque — by quite some way — and saw its fintech darling Klarna hit the podium too. 
Sifted Newsletters
Up Round
Every Friday
Dive into VC and meet the people holding the purse strings.
Fintechs, as ever, were popular with investors. Neobanks N26 and Revolut, payments startup Mollie and mobile broker Trade Republic all snapped up eye-watering sums. European VC's newest major sector — speedy grocery delivery — also found representation among the upper echelons with Gorillas, although major concerns were raised in the summer about its working conditions and culture.
3/ Europe is making gains on the US, starting with the earliest stages
Early-stage startup raises in the region made up 33% of all global rounds of up to $5m — just a hair's breadth away from the US's 35%. 
While Europe's share of the pie has risen over the years, it's been at the expense of America. Over the past five years, Europe has increased its share of global early-stage startup funding by 13 percentage points, whereas the States' has decreased by 20. This is also an important leading indicator of Europe's tech strength to come, if many of those early-stage companies raise follow-on rounds.  

4/ The total value of the ecosystem crossed $3tn
In less than three years, the European ecosystem has tripled its value. Judging by the current rate of growth, French president Macron's aim to have 10 European unicorns worth €100bn by 2030 looks on the money.

5/ Planet positive and purpose-driven startups beginning to be taken seriously
More money is being pumped into planet positive startups than ever before. In the first nine months of this year, investment in the sector rose to 11% of total tech funding ($10bn) — climbing at twice the rate of overall investment into tech.
It's an area that Europe is a world leader in, and while it trails America in terms of overall funding into tech, it has a higher proportion of investment into purpose-driven startups.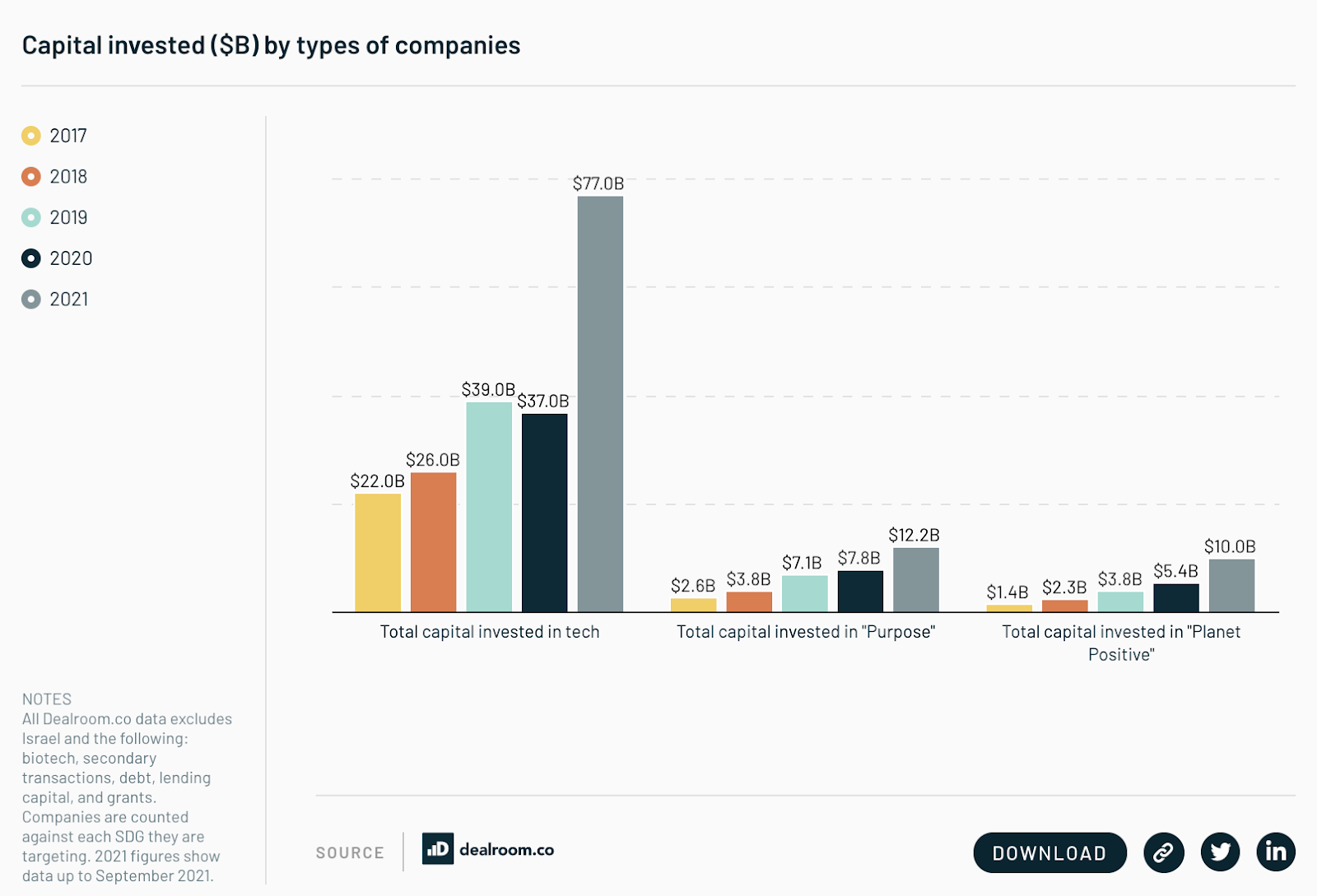 6/ SPACs hit Europe
2021 has been the year that SPAC activity entered European tech. 15 companies have completed de-SPAC processes, with a combined enterprise value of $62bn. 
13 were VC-backed, and the UK dominated the SPAC field with nine companies, including healthtech Babylon and car marketplace Cazoo. 
Unicorns
7/ We're going to need a bigger stable for all these unicorns 
98 new unicorns have been minted in 2021 so far, joining the 223 $1bn+ European startups there were at the end of last year. It's the biggest unicorn increase since 2014, when the number rose from 34 to 59. 
The UK leads the field with 100 unicorns to its name, and Germany and France make up the top three with 51 and 31, respectively. 
Companies are also getting to the $1bn mark quicker than ever before. It took Gorillas just nine months to hit the mega valuation, and fintech Saltpay, battery tech company Britishvolt and blockchain startup Sorare all got there in 22 months.
The decacorn herd — startups worth $10bn+ — has more than doubled in size, hitting 26 so far this year. Companies like Northvolt, which would have struggled not to hit decacorn status after its $2bn raise in June, fintech Checkout.com and data analytics scaleup Celonis have all joined the elite group.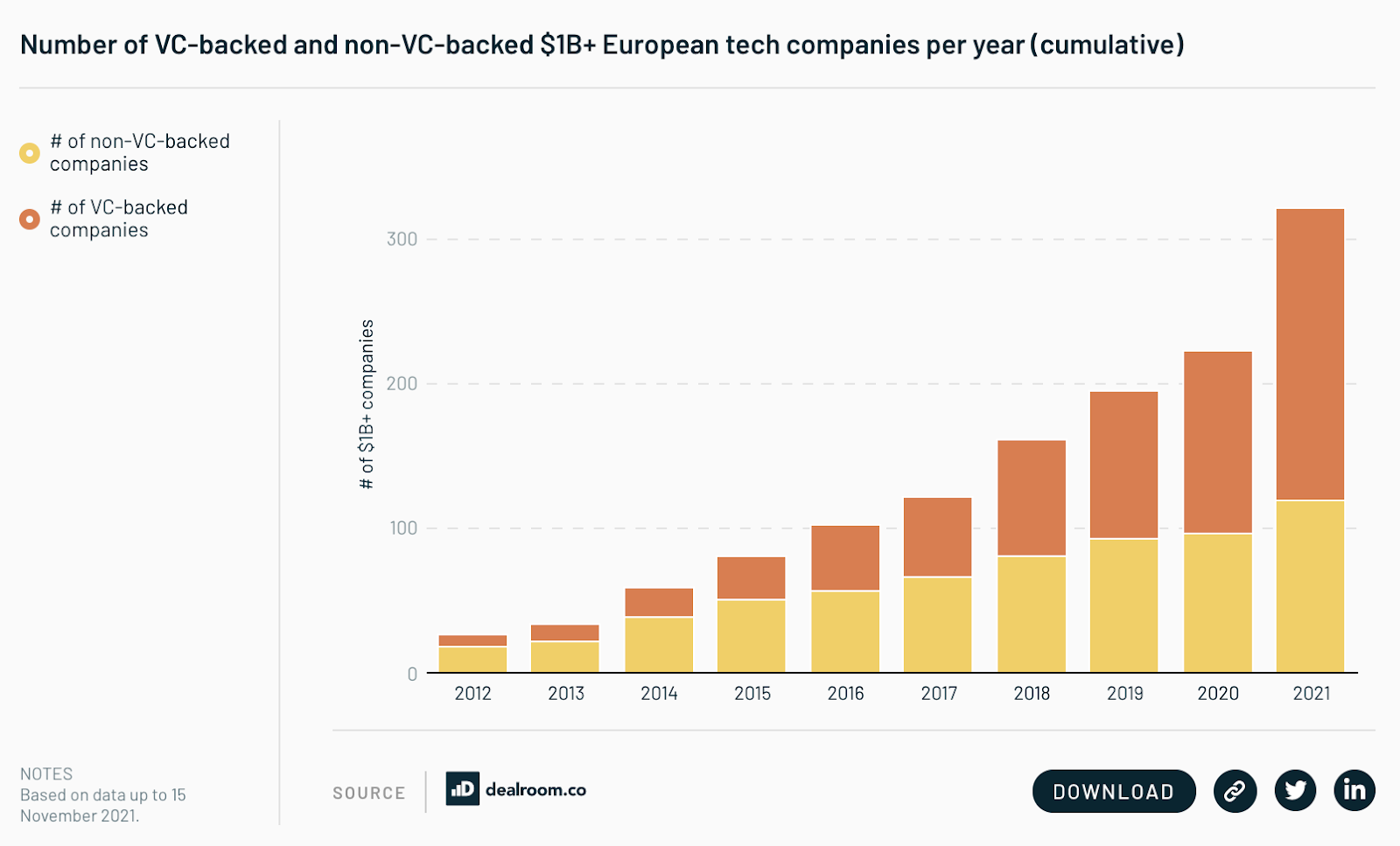 8/ B2B unicorns open lead over B2C
In 2020, the number of enterprise unicorns overtook consumer-focused ones in Europe for the first time ever — and the tide is firmly shifting. 
2021 saw blockbuster raises for companies like insurtechs Tractable and Shift Technology, freight forwarder Sennder and portfolio management platform Scalable Capital, as 52 new enterprise unicorns were minted in comparison to 34 consumer unicorns.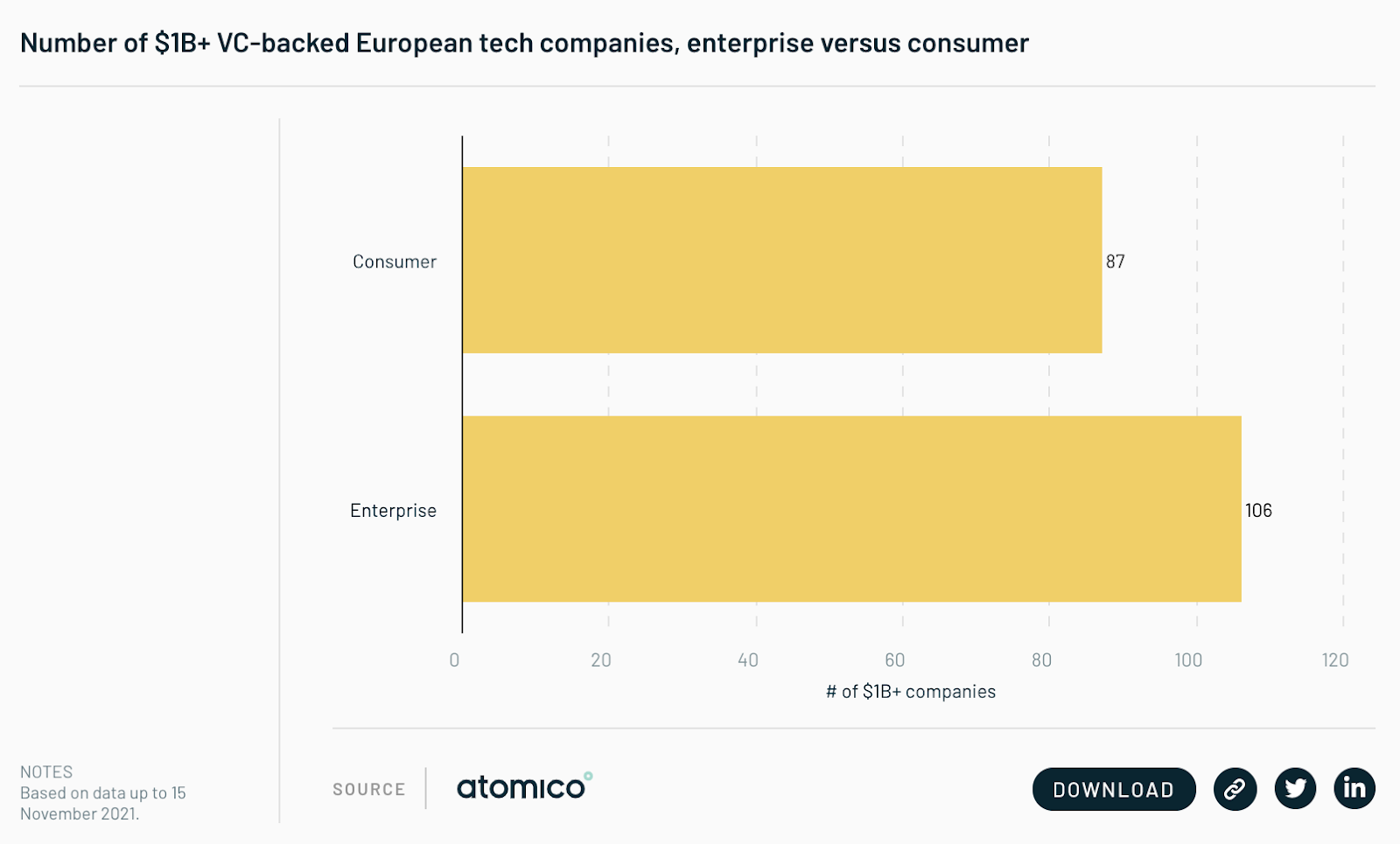 Geographies
9/ Europe's top five European tech countries pull ahead
The top five countries with the most investment in the past year are unchanged from 2020, highlighting their dominance on the European startup scene. 
Although their percentage of the European deal count has dropped slightly from 2017, the top five's share of capital has increased. While sitting at number four in capital invested, Sweden registered the most capital invested per capita in 2021.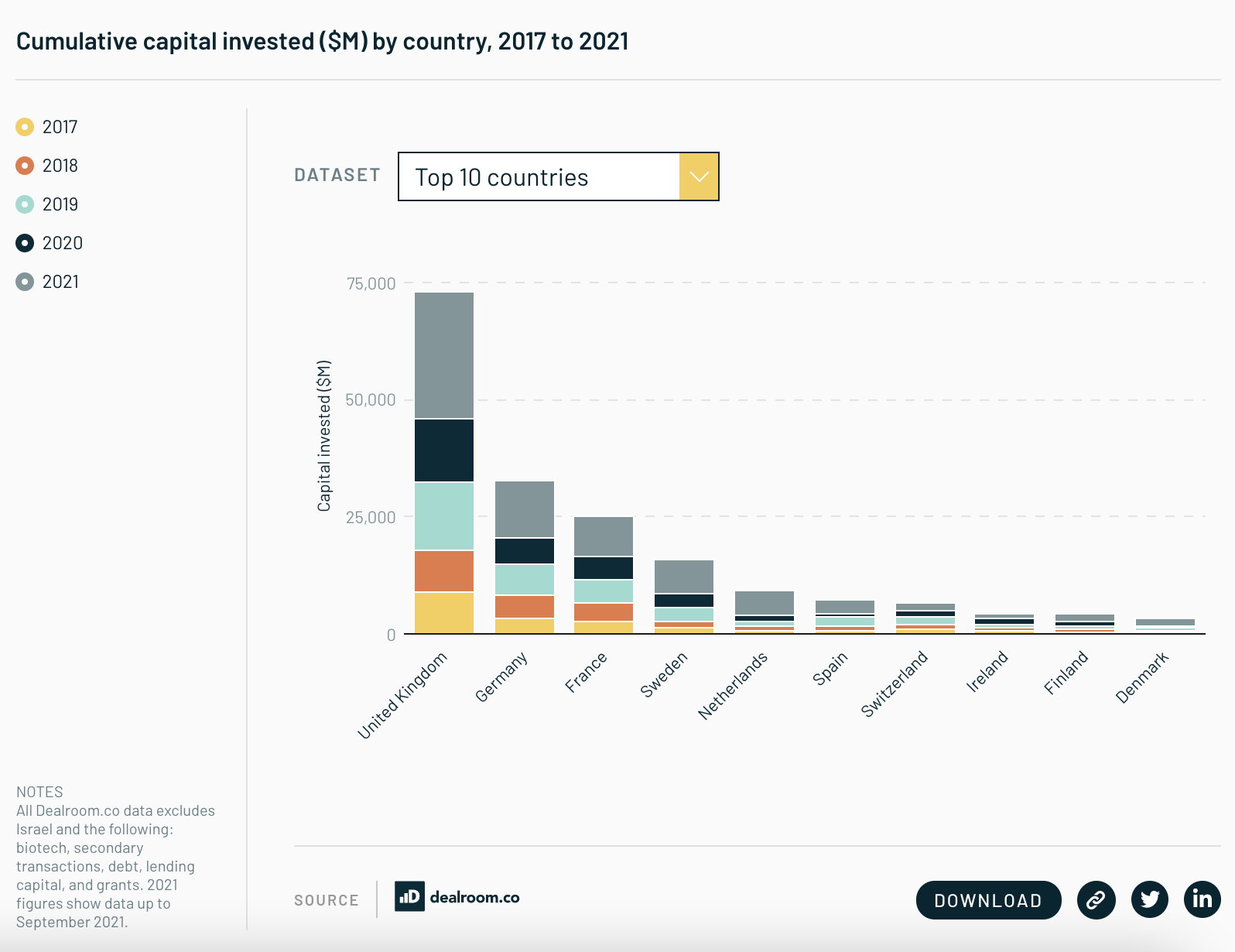 10/ London remains the top European Hub 
But across the region tech hubs are seeing unprecedented levels of investment. 20 cities will likely have raised upwards of $1bn by the end of 2021, while just four did by the end of last year.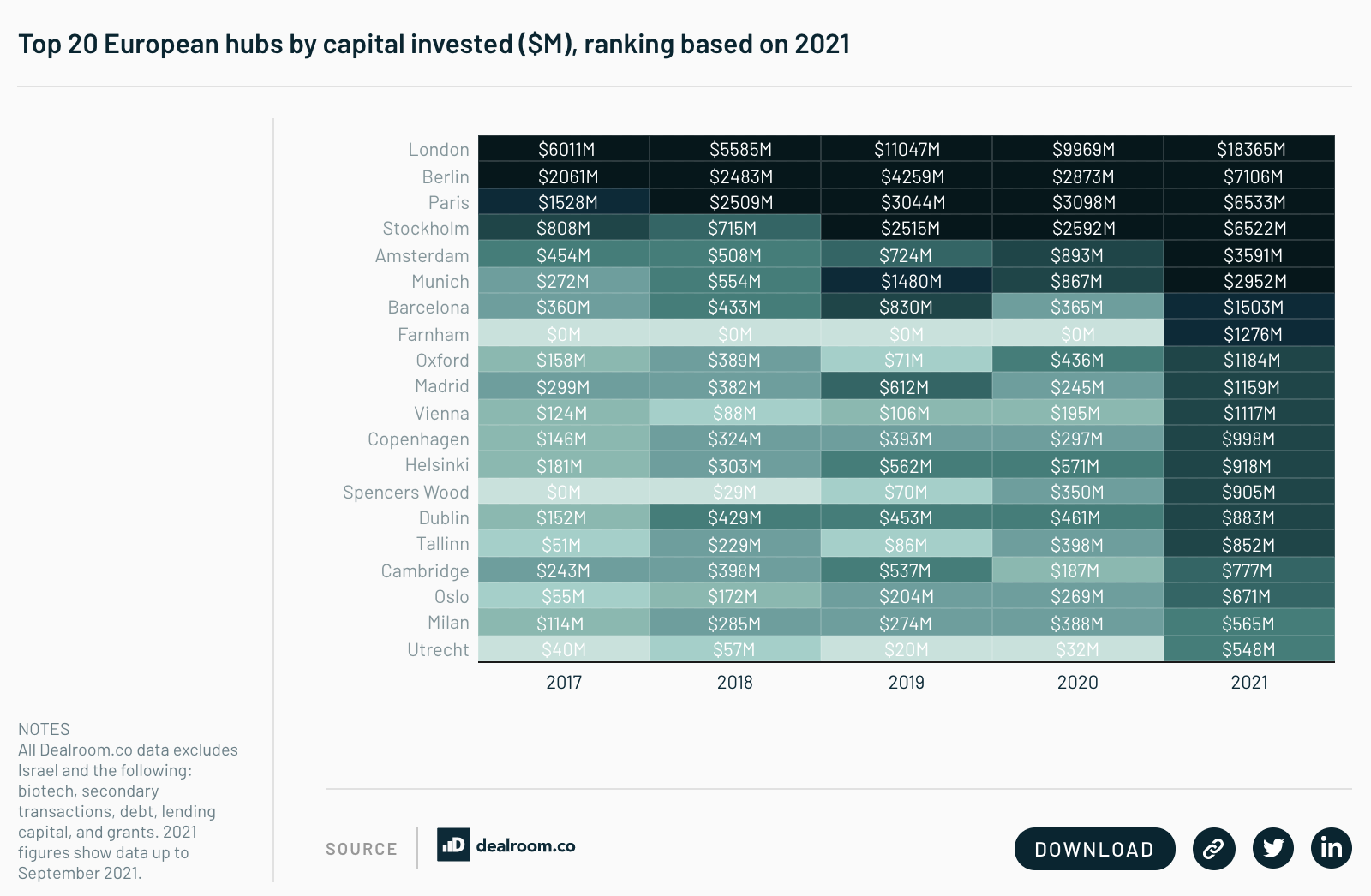 You'll recognise the usual suspects on that chart; London, Berlin, Paris, Stockholm… but a couple of names will likely draw blanks. Introducing the sleepy English village that's raised more than Dublin, Tallinn and Milan this year — Spencers Wood, home of cybersecurity scaleup Snyk. 
Another name that might have you guessing is Farnham. The market town in Surrey has a population of 40,000, and is the eighth most invested hub in Europe. It's home to Cinch, the car marketplace that's bagged a whopping $1.3bn this year.
Although funding has risen across European hubs, deal counts have remained relatively flat — highlighting that the rise of European tech in 2021 is due to bigger rounds, rather than more of them.
11/ CEE remains underfunded
Just 5% of VC funding went to Central and Eastern Europe in 2021, despite the region having the highest population share. As a result, 31% of unicorns from CEE are bootstrapped, compared to 7% in the rest of Europe.
Despite this lack of funding, Estonia retains the title of most entrepreneurial country in Europe — which is measured in startups per 1m inhabitants.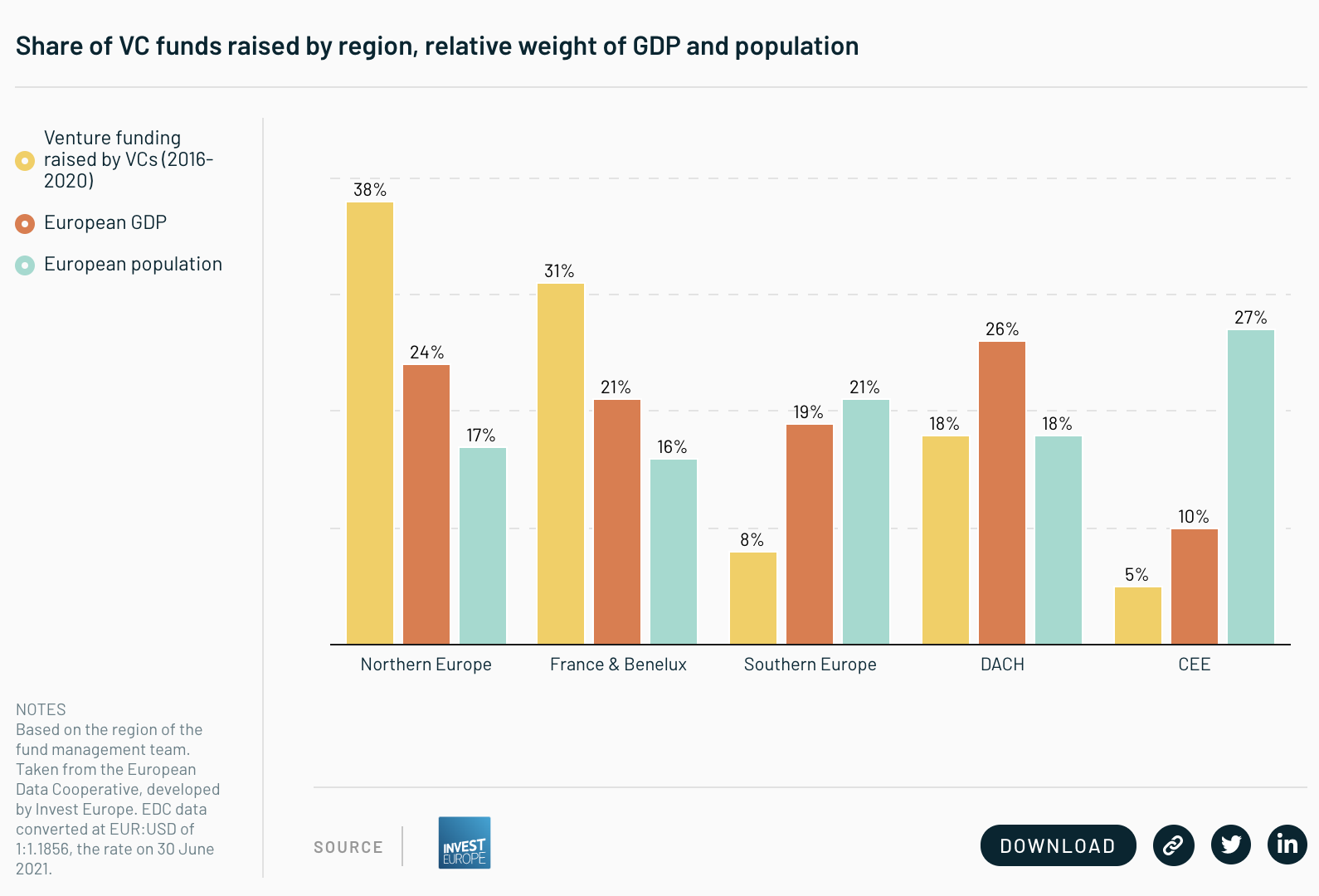 Diversity
12/ The gender gap is widening
Female founders raised the lowest proportion of total capital since at least 2017, highlighting just how much VC sucks in backing diverse founders. Figures dropped from a record 2.4% last year to 1.1% — and 49% of female founders felt that being a woman negatively impacted their chances of raising capital.
One of the major reasons for this imbalance is the lack of women leading funds in Europe, and just 12% of GPs and MDs of European VC firms are female.
But there is some light on the horizon, and women make up nearly a third of the next generation of European tech leaders — those with zero to five years' experience — compared to just 16% of those with 20+ years. 
Female-founded startups in Ireland, Sweden and the UK secured the highest proportion of deals (but no more than 10%). At the other end of the spectrum, just 1% of Belgium deals went to female founders, and tech powerhouses like Germany and France also both fell below the European average.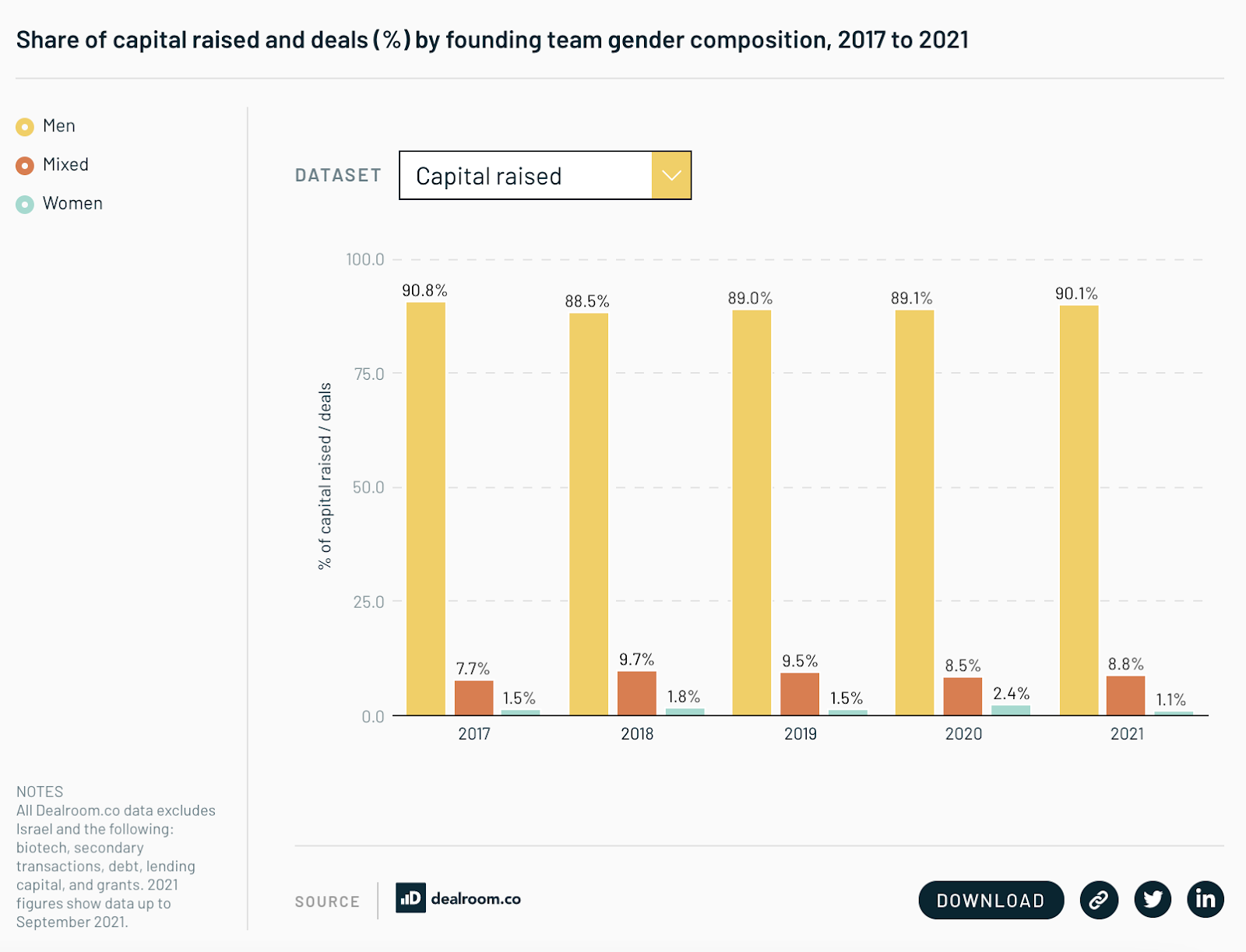 13/ The situation is even bleaker when considering ethnic diversity 
Just over 1% of overall VC funding in Europe went to founding teams solely made up of ethnic minorities, and the problem becomes clearer when breaking up rounds at their different stages. 
Ethnic minority-founded companies at late-stage VC captured 1% of the funding, whereas at seed level they snapped up 3% — highlighting the difficulties ethnic minority founders encounter when scaling. The issue is most pronounced in CEE, where white founders raised 100% of VC funds.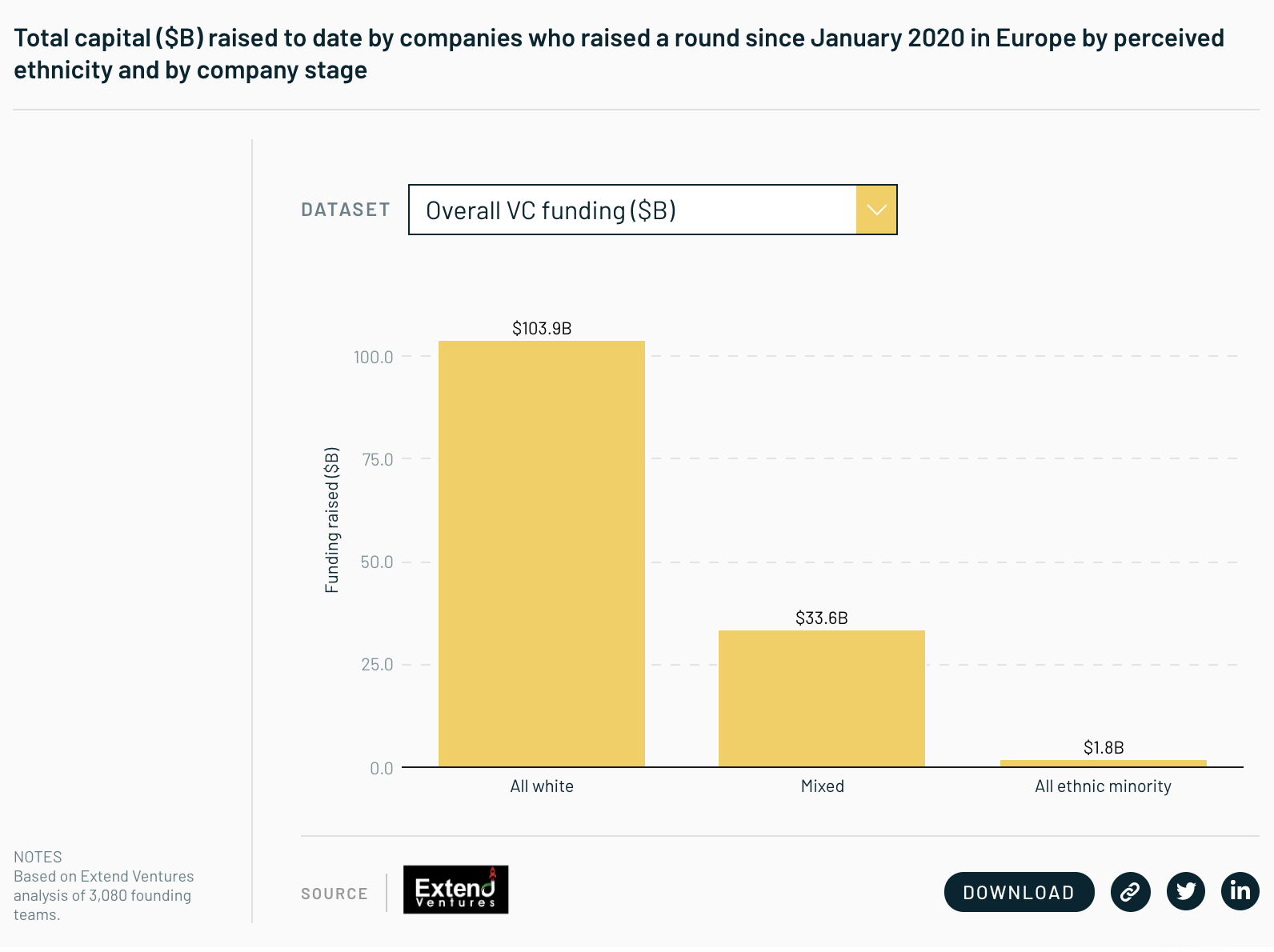 Investors 
14/ The American invasion 
American VCs are flocking to Europe, hence 2021 saw a major jump in US institutions that have got involved in at least one round, as a number of North American institutions stepped up their presence in the region.
Alongside this, the pool of investors continues to expand. The number of unique institutions active in Europe increased by more than 25% in 2021, with the biggest changes at growth stages of funding; investors involved in rounds of $100m or more increased by nearly 200%.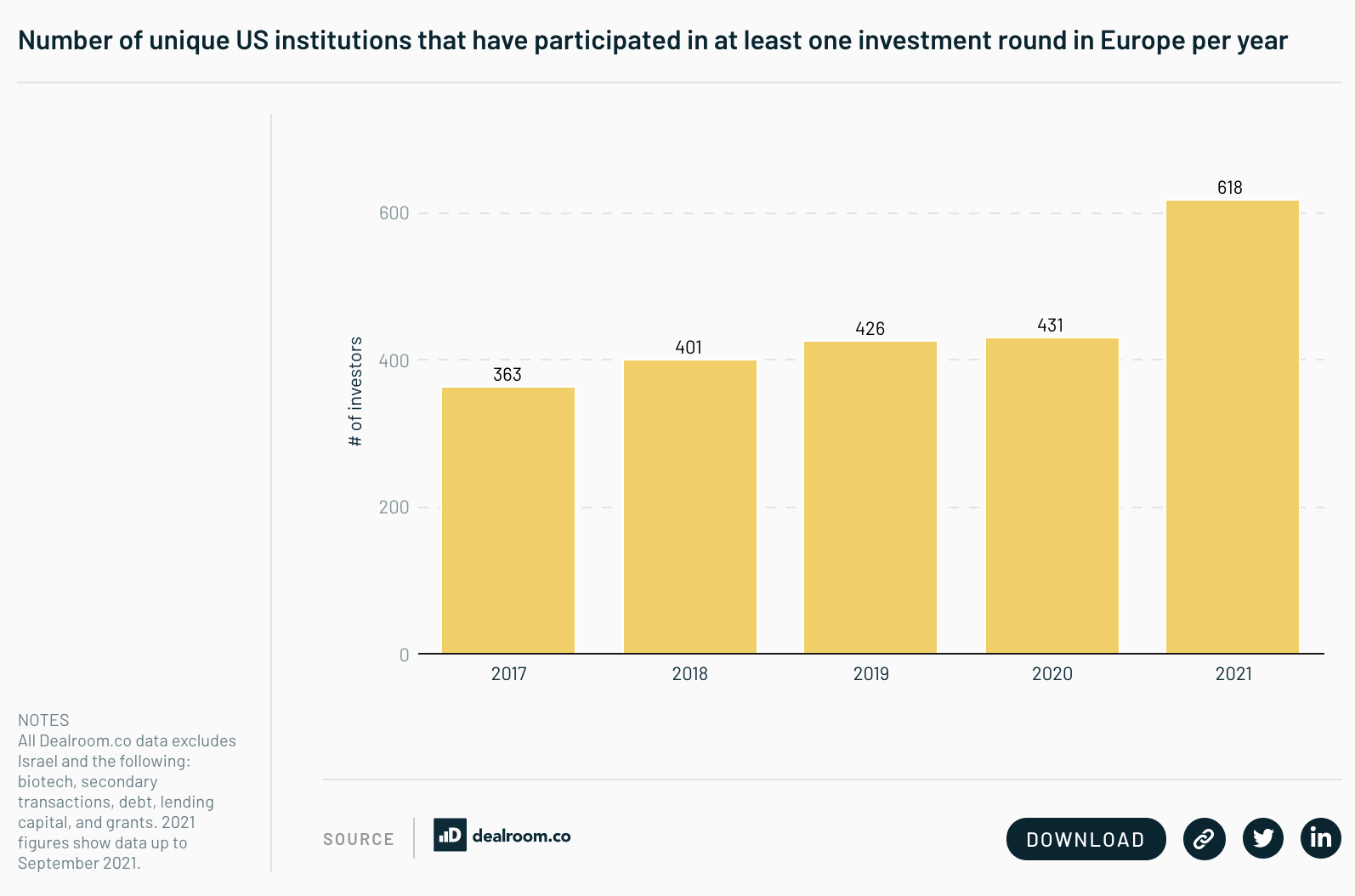 15/ Domestic funding drops 
Domestic investment is dropping in Europe's biggest markets and has halved since 2017 in the UK and France. This is a sign that European founders have more choice when fundraising. 
In part this is due to investment from the US and Asia ramping up, most noticeably in bigger rounds in the region. 95% of all deals at $250m or more now have involvement from US or Asian VCs — up from 73% in 2020.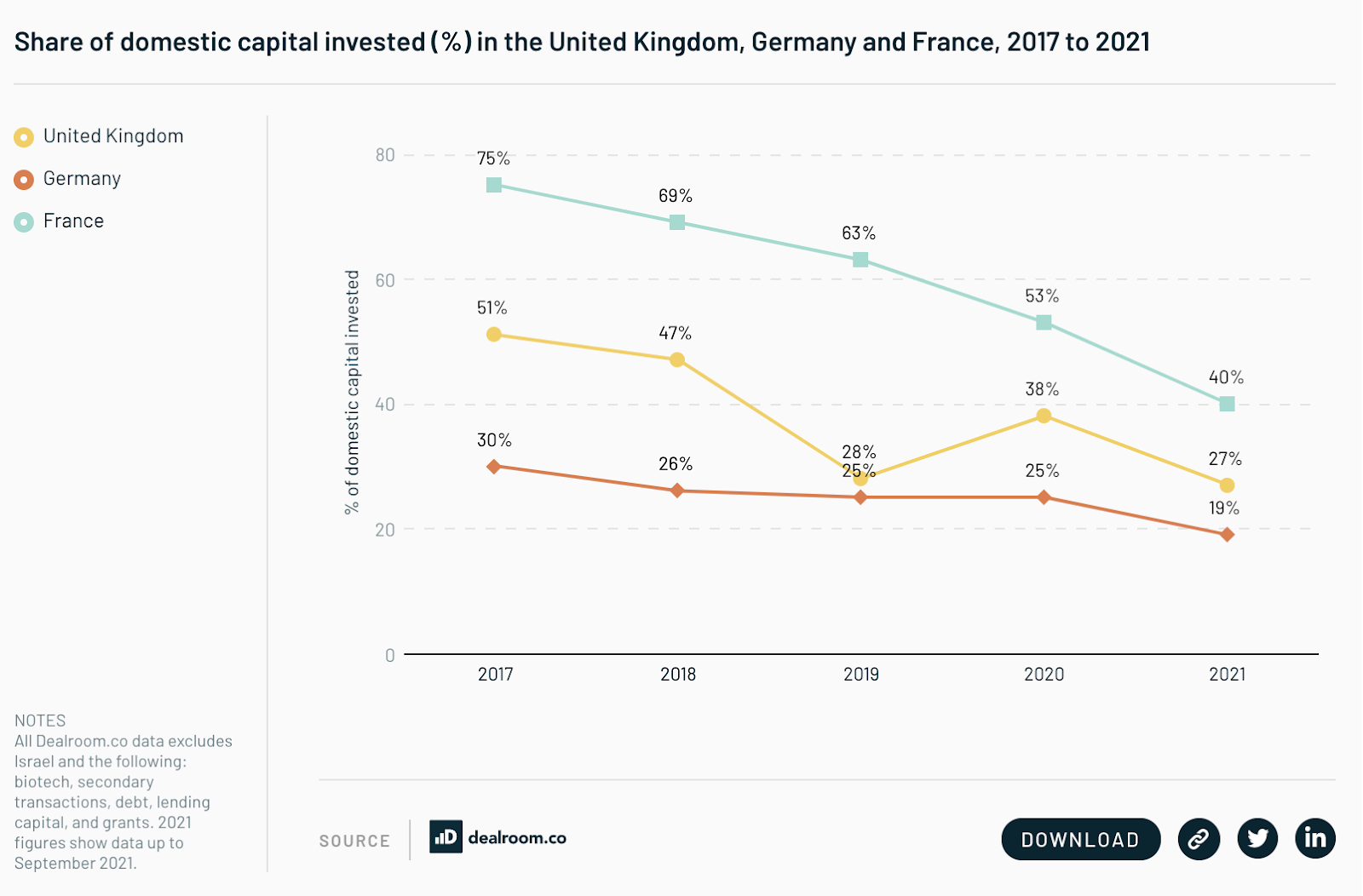 16/ Governments increase presence in European VC
Government funding saw a marked increase in 2020, from a low point in the two years before. It's a reflection of the increased scale of government initiatives across the continent, as states have sought to prop up economies during the pandemic and stand up to competition from further afield. 
Investors and founders will be keeping a close eye on the cosier relationship between startups and governments that the pandemic forged; while government money was crucial during the pandemic, a more mature startup ecosystem should correlate with a smaller share of startup funding. 
Follow-on funds, it seems, is where government money is being injected, and they've seen major gains over the past few years. Investment into first-time funds, on the other hand, has stayed pretty much flat since 2016, part of the reason emerging managers say it's so hard to close the first fund.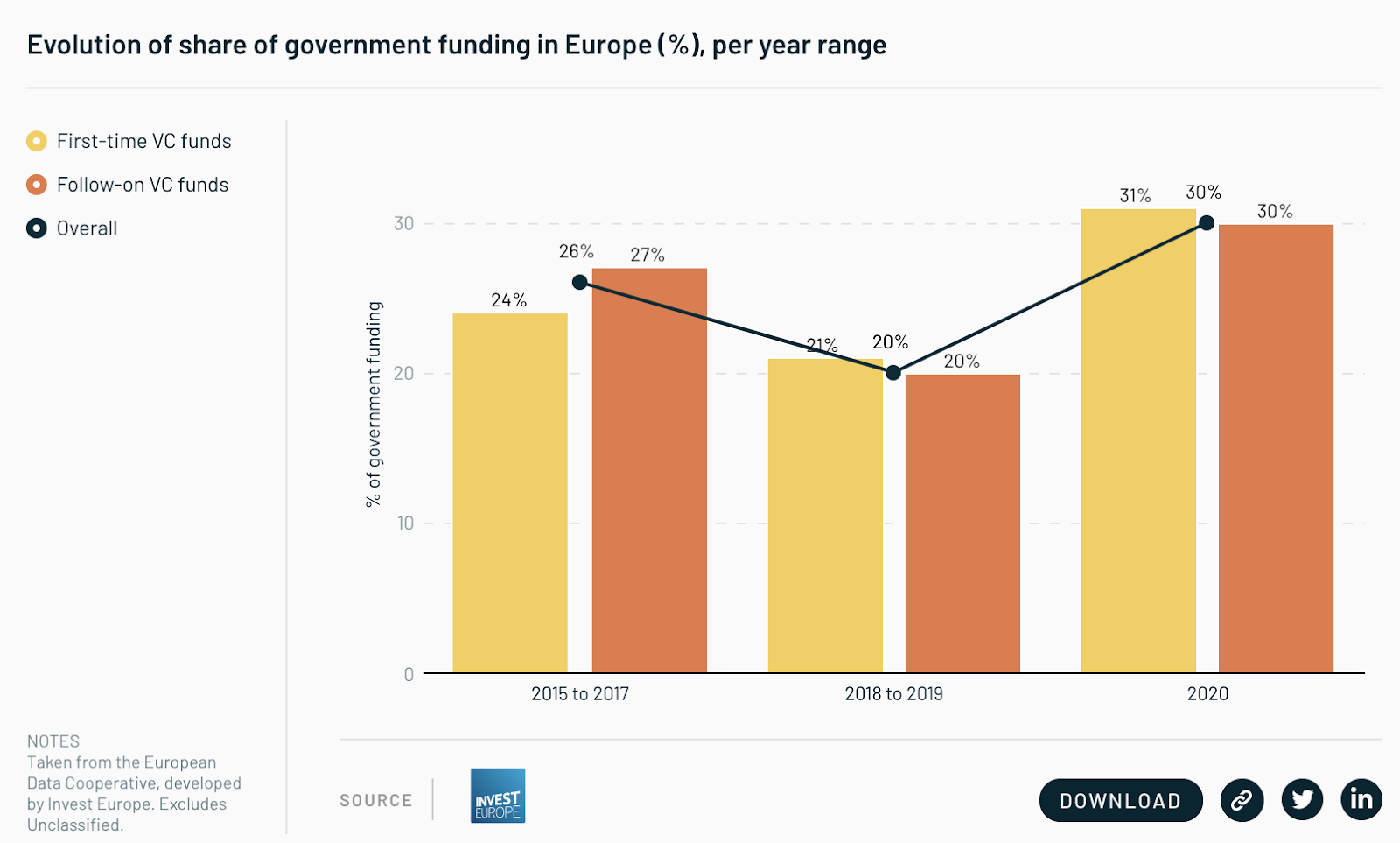 17/ June was a record month
June was a record month for investment, and saw $15bn snapped up by startups in Europe — three times as much as 2020's record-breaking month of September. But why June — something in the air? 
Three of the top 10 raises happened during June — Northvolt, Celonis and Mollie — totalling $4.6bn. 29 $100m+ rounds were also snapped up across the month, which alongside September's haul was the joint most of 2021.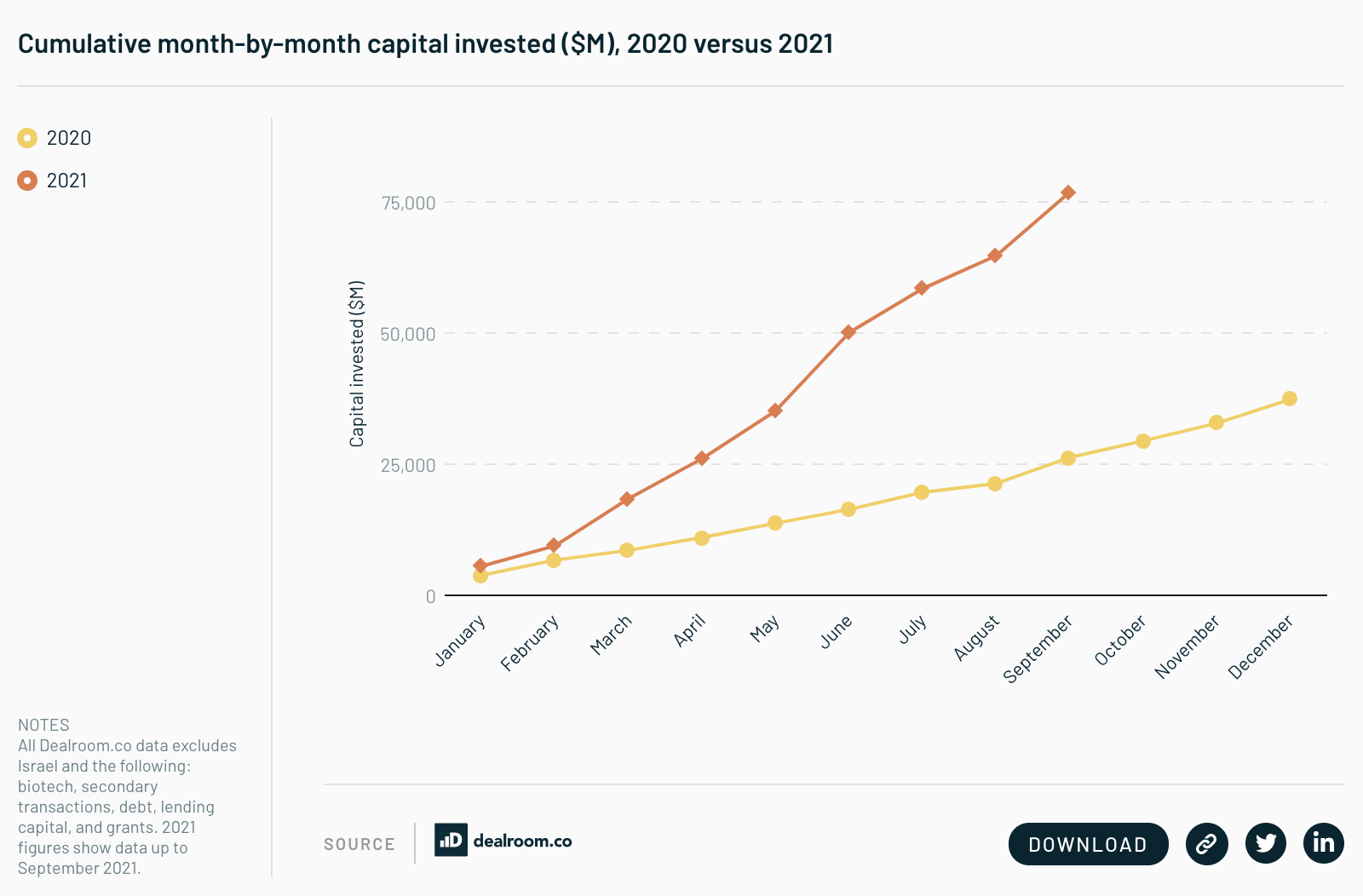 18/ VCs are feeling the heat from competition 
With the number of investors getting involved in deals across Europe rising steeply in 2021, the increased pace of investment and record-breaking figures pumped into European tech, it's no surprise that VCs are beginning to feel the competitive pressure ramping up. 
This is a trend that's seen uniformly across all stages, from pre-seed to Series D and beyond.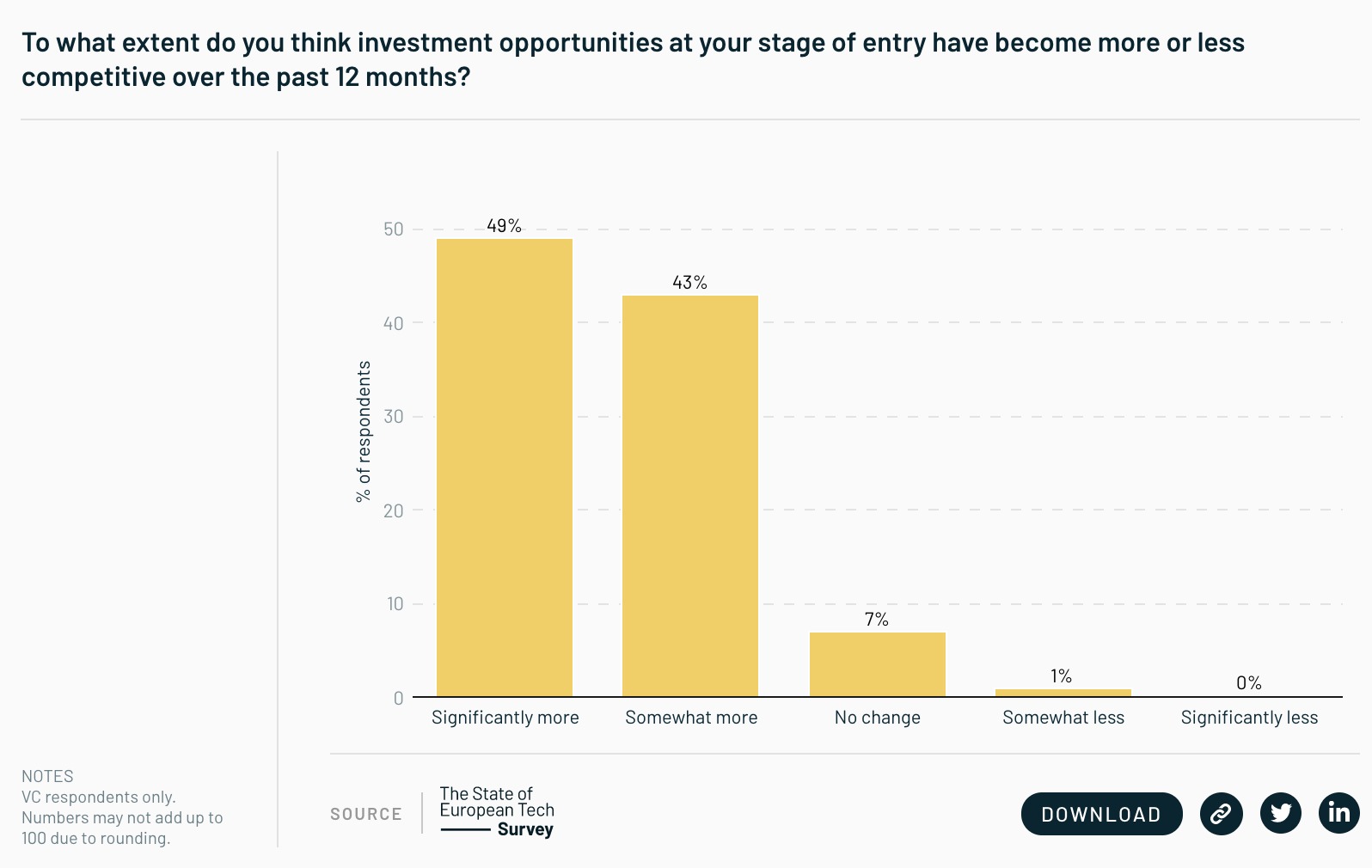 Sectors
19/ Fintech is the fastest growing sector
After a relatively slow year in fintech in 2020 — funding dipped from 2019, although it did remain the best-funded European tech sector — the industry has bounced back. 
It's grown at more than double the rate of enterprise software and transportation, following a year that's seen Revolut and Checkout.com get minted as decacorns, buy now, pay later giant Klarna become the world's second most valuable fintech and companies like Mollie, N26 and Trade Republic raise nine-figure sums.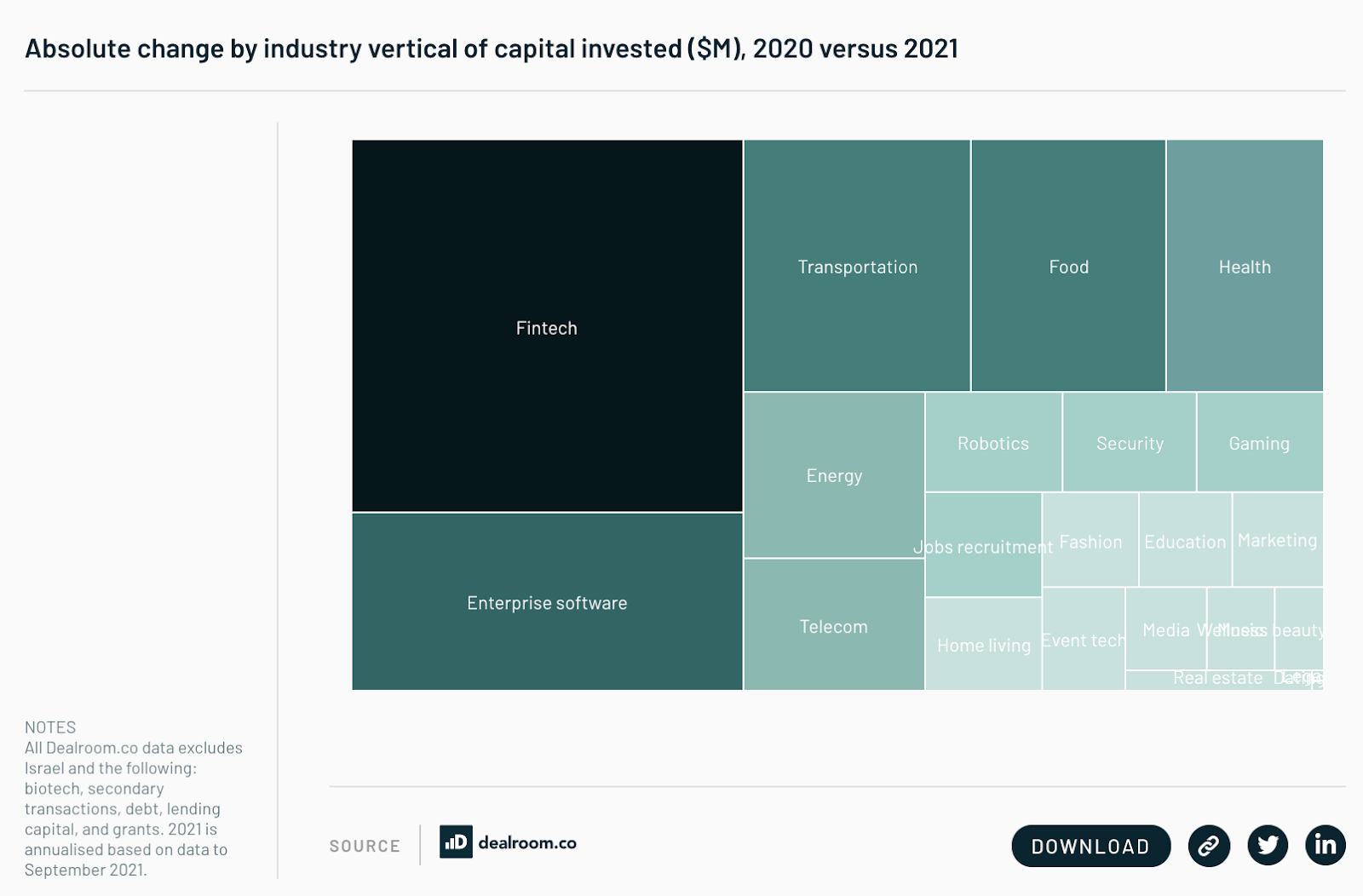 20/ Crypto (finally) takes off
After years of talk, crypto is beginning to walk the walk. 
In the first nine months of 2021, the top 10 largest crypto rounds totalled $3.2bn. 
Sorare raised Europe's largest ever crypto round, snapping up $680m in September, and Austria's Bitpanda and UK's Genesis Digital Assets raised nine-figure rounds each.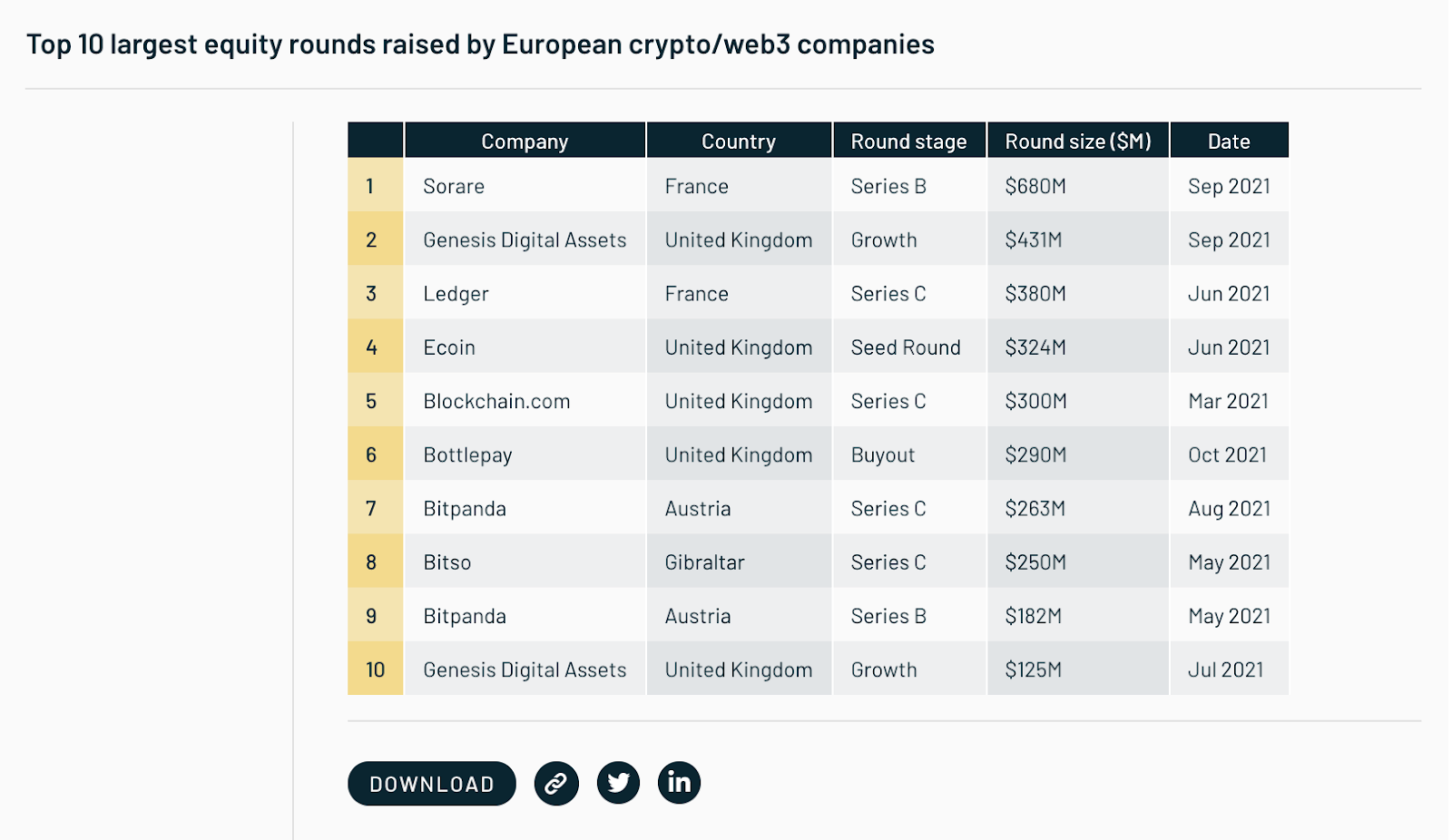 Talent
21/ Brexit takes a toll on talent
And finally, UK-based founders believe that the depth of the talent pool has gotten worse in the past 12 months — highlighting the impact of Brexit and the pandemic on the country. 
The only other country to perceive a talent drain was the Netherlands, while founders in France and Germany both overwhelmingly felt the talent pool had become better and remained the same.