Today, London-based travel tech startup Impala announced a $20m raise led by Lakestar, just four months after its last raise of $11m. 
It hopes to shake up hotel infrastructure and open up hotel data as US fintech Plaid has done for the financial world — and investors (including LocalGlobe's sister fund Latitude, Stride.vc and Kima) are biting. 
But it's unlikely there will be much fanfare in the office. Hardly anyone will be there.
Impala is a remote-first company. On Tuesdays that means most of its 35 employees will be working from wherever the hell they like. 
And that, along with a pretty smart and ambitious product which is opening up hotel data to a host of businesses which didn't previously have access to that information, is Impala's secret sauce, thinks founder and chief executive Ben Stephenson. 
Big business in hotel bookings
The hotel industry is enormous. Around the world, 6.3bn hotel bookings are made each year, bringing in $600bn in revenue in 2018. 
But the software the industry runs on is old and clunky. And hoteliers around the world hate how much they rely on Booking.com and Expedia to sell their rooms. 
Everyone [is] trying to reduce dependence on Booking and

Expedia.
"If you put 100 hoteliers in a room, so that would be a big room full of mostly elderly white men, the biggest thing everyone would be trying to do is reduce dependence on Booking and Expedia," says Stephenson, who founded Impala in 2016. These platforms take 25% commission — and hotels are desperate to escape their clutches. 
For years hotels have been trying to get more people to book directly through their sites, but they've struggled because the cost to acquire those customers is high and the customer doesn't get much more value than booking via the big platforms.
Sifted Newsletters
Sifted Newsletter
3x a week
We tell you what's happening across startup Europe — and why it matters.
Stephenson thinks Impala's tech will be able to help. This latest $20m in funding has been raised to build a product which will enable many businesses other than hotels and booking platforms — like airlines and search engines — to sell rooms, by plugging into hotels' data via Impala's interface. 
Rather than the 25% commission charged by booking platforms, Stephenson says Impala would charge something closer to typical credit card processing fees, which are around 3%. 
There are benefits beyond the hotels' bottom lines, too; Impala's tech should lead to more personalised booking options for customers.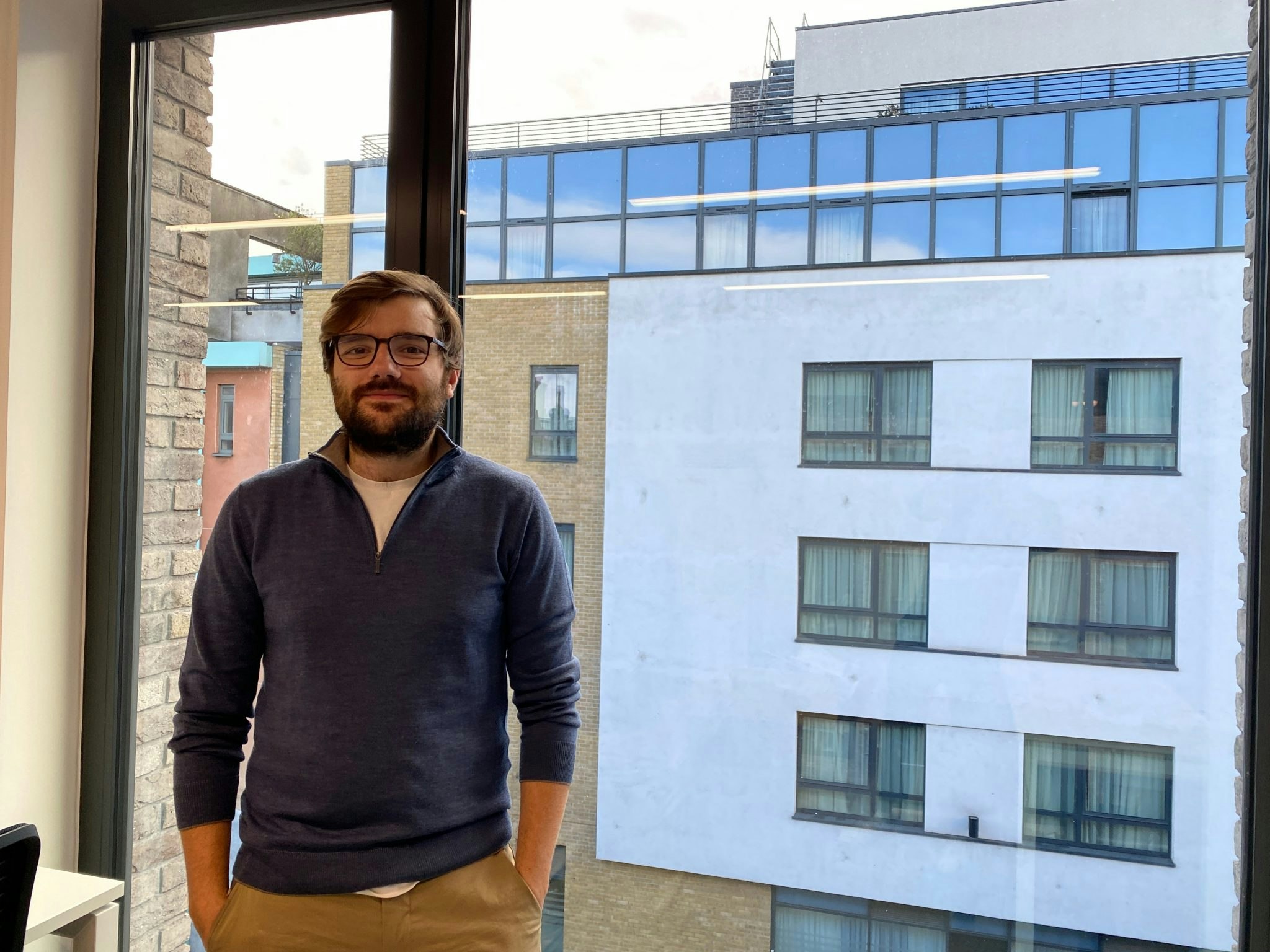 "This deeper, granular data access will offer different booking experiences," says Stephenson. "Rather than search for a room in Paris for two adults, you can say things like, we want a room in a European city above the 6th floor away from the bar." Disabled travellers would also be able to check exactly what features a room has.
Impala isn't the only travel tech startup in Europe with ambitions to open up the industry. Duffel, another two-year-old London-based startup, which raised $30m last October, plans to make it easier for airlines to sell flights (and add-ons) through a variety of platforms — much like Impala. "We're doing in hotels what they're trying to do in airlines," says Stephenson.
Speedy fundraising
But it wasn't Impala's plan to launch this room-booking product so soon.
Currently Impala's tech makes it easy for companies which work with hotels — like TripAdvisor, Phillips and smart lock companies — to read hotels' data. 
(Take Phillips. It sells TVs to hotels. It then goes through a convoluted process to connect to the hotel's systems, so that Phillips knows when a room is occupied and what kind of customer is staying there. It can recommend the right kind of movies and wipe viewing history once a visitor has left. Impala makes that process a whole lot less time consuming, says Stephenson.)
Impala's Series A round was raised to meet demand from big corporates wanting this service. But investors had other ideas.
"We didn't go out to raise. We had an investor [Lakestar] come to us and say they wanted to be involved. We went through the process of sitting down for a couple of months, figuring out if they were the right partners and asking if we could put more capital to work," says Stephenson. 
That investor, Zurich-based Lakestar, has already made several big investments in Europe's growing travel tech sector, including Berlin-based travel activities platform GetYourGuide and transport ticket booking platform Omio. 
Europe is the best place to build a travel tech

company.
"They have a really good pedigree in travel and a deep technology focus," says Stephenson. "Europe is the best place to build a travel tech company; there's a density of independent hotel chains here, [in contrast to] the US. I didn't want to be in the early stage of building a company and on a plane to San Fran every other week." 
Latitude, the London-based Series B+ sister fund to well-respected seed investor LocalGlobe, also participated in the round. 
"There's a lot of interest in the market for something that enables people to sell hotel rooms via API [application programming interface]," says Stephenson. "With more money, we can bring that to fruition sooner than we otherwise would."
Teaming up
Over the next year, Impala plans to hire 45-50 more people. Stephenson has, as a result, been writing a whole lot of job descriptions recently. 
The roles sound pretty enticing.
"Impalans" get a whopping 36 days of holiday per year. (That's in the top 14% of companies in the UK, according to Impala.) Remote workers get a budget to spend on furnishing a home office or renting a desk at a co-working space near them. There's even the chance to win a massage every month.
"You want to get across the culture and community of the company as quickly as you can, to attract the people you want to hire and put off the people you don't," says Stephenson. 
"Talent acquisition is the most important thing you can ever do," he adds. "You can get everything else wrong, but if you hire exceptionally smart people you will get something right." 
For me one of the key things was to make sure that these extremely talented people don't spend too much of their time in

meetings.
In the pursuit of hiring top talent and letting them get on with doing their thing, Impala was originally a fully remote company. "For me one of the key things was to make sure that these extremely talented people don't spend too much of their time in meetings," says Stephenson. "One way to do that was say, 'Hey, let's not have an office'." 
That didn't last for too long. "Engineers are actively looking for these kinds of roles," says Stephenson — an engineer by background. Outside of engineering and product, however, he found that he was spending a lot of time explaining to potential candidates what it meant to join a remote organisation. "It's a different kind of recruitment brand, a different exercise you have to do."
"You have to pick your battles, and it got to the point where we were like, 'Hey, we're going to scale quickly in these departments, let's put them in an office in London'." 
Most people on the team work remotely for the majority of the week, however, and the engineering and product teams remain entirely remote, spread out around the UK and Ireland, from Derbyshire to Manchester to Dublin.
Impala is now hiring for a remote experience manager — someone who will coordinate the remote team, support them, arrange meetups and help make Impala a leading organisation in remote working. 
Remote perks
Being a remote-first organisation has perks beyond a lack of meetings. 
There's an old trope, says Stephenson, that when a company hits 16 employees everything breaks, because not everyone can fit into a room at the same time. That didn't happen at Impala.
"Because we're remote, no-one could get into a room at the same time anyway. We've gone from 11 people pre-Series A to 35 now without much beyond small teething problems," he says.
Impala also has more employees in its people ops team (of four) than most startups of this size — and will keep a similar ratio as it grows. "Two people I respect told me, unprompted, that they hired people ops too late. I listened to them," says Stephenson.
He doesn't listen to everyone's recommendations, however. "One of my main mentors once told me you shouldn't innovate in the business structure because you'll be too busy innovating on the product structure. I threw out that advice." 
Take the, some would say, ludicrous amount of holiday "Impalans" receive. "We really want to avoid burnout. Grab a random person at Impala, ask them when they worked later than 6pm, and they'd say once or twice," says Stephenson, who also gives employees an 'unsick' day once per year to get a health check. 
"When people join a company, they're putting a lot of faith in your hands. If Impala is as successful as we want it to be, it will be the defining moment of many people's careers."
If a line in Impala's job descriptions comes true — "Within the next two years 25% of hotel bookings worldwide will flow through Impala technology and the product that we're building will support the entire ecosystem of travel technology" — it will also be the defining moment of plenty of its investors careers too.