There's big value in building a trustworthy brand. According to Microsoft Advertising research, 85% of consumers say they'll only buy from a brand they trust. 
But how do startups begin to build this trust with clients and customers? And what happens if they lose their customers' confidence?
We discussed all this and more during our latest Sifted Talks, featuring expert insight from: Kate Sandle, director of programmes and engagement at B Lab UK; Ning Li, founder of skincare brand Typology and furniture website MADE.com; and Sean O'Connor, marketing director for EMEA at Microsoft Advertising. 
1. Branding is about far more than a logo
You could have the best products or services in the world, but it means nothing without a solid brand.
New businesses should think beyond the brand's appearance and build a sense of their purpose, story and values into their marketing and communications. Li suggests that the most successful brands are those that articulate their founding narrative well, before forming a name and narrative that fits with their purpose and offering. 
A brand is a foundational element of any startup or any company for that matter. This is how your company, your product, your service lives and breathes in the minds of your clients, your partners and your consumers. It's critically important, it's foundational and it certainly goes beyond the logo." — Sean O'Connor, Microsoft

Advertising
2. Trust needs to be continuously earned...
Brands at any growth stage need to continually work to establish trust with their target audience. This means conducting business operations with honesty and integrity, and delivering on the promises made to their customers on quality, pricing and delivery. Even occasional lapses can have long-lasting negative effects on brand reputation. 
Sandle uses Dutch chocolate brand Tony's Chocolonely as an example. The brand's commitment to ending slavery and transparency around its supply chain has gained it a following with socially conscious consumers. Back in February, it was removed from a list of ethical chocolate companies over ties to a manufacturing giant accused of child labour. The scandal threatened to rock the brand's corner of the market. In response, Tony's Chocolonely released a statement in response to the allegations, explaining their intentional sourcing and used the opportunity to bring attention to issues of labour exploitation.
[Trust] has to be continuously earned. It can erode, it's not static… The way that you communicate, whether that's with your supply chain or with your customers, you have to reinforce integrity. And the most important thing is honesty." — Kate Sandle, B Lab

UK
3. …but can be lost very quickly
As seen with Tony's, lapses from even the most highly respected and vaunted organisations can lose customer trust quickly. Making decisions that go against your business's DNA, or suddenly hiking up prices, can have catastrophic consequences. 
Sifted Newsletters
Sifted Newsletter
3x a week
We tell you what's happening across startup Europe — and why it matters.
Take the recent fan protests against the proposed European Super League at Manchester United and Chelsea football clubs, said O'Connor: that was an example of powerful brands losing trust. Sure, sport is a different level of 'brand' loyalty, with opinions and emotions often reaching fever pitch, but the road back to gaining trust for any organisation begins with open and honest dialogue. 
To build that trust back, it takes a long time. We think about trust gained in drops, but lost in buckets. For a brand that's lost trust, you need to start owning up to how you lost that trust and by being really authentic in your communications, and then being clear about the long road to getting it back." — Sean O'Connor, Microsoft

Advertising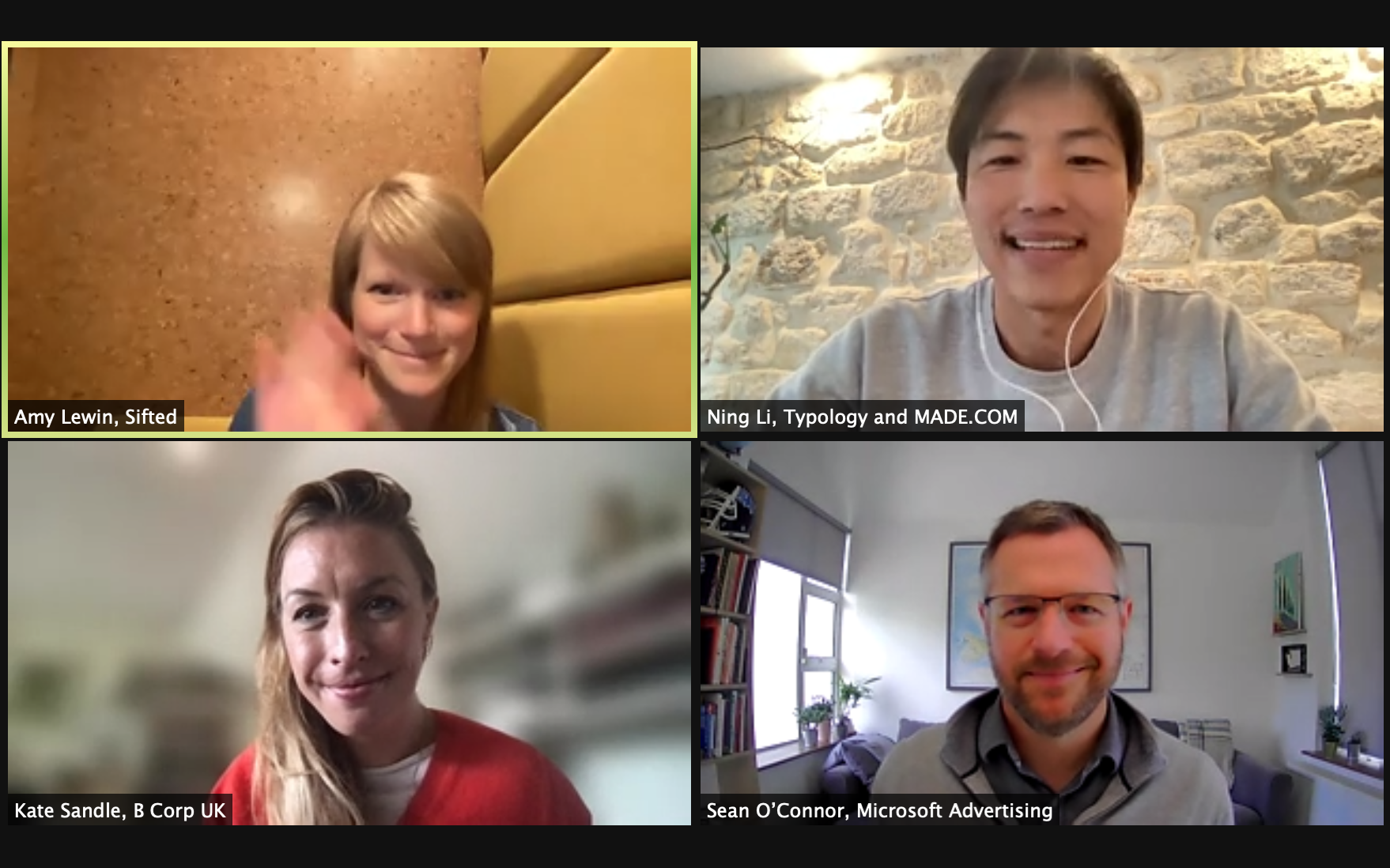 4. Consumers are more sceptical than ever
Consumers are becoming increasingly sceptical, making gaining their trust even more important. 
Look at the cosmetic industry's superficial marketing efforts — which Li described as "beautiful women, perfectly retouched, with no wrinkles and a bottle of anti-aging cream". He believes that consumers are now far less trusting of such campaigns and that honesty and openness are the solution. 
People today are smart enough to be discerning, not just trust a very simple message that people put on a billboard… If you build a brand that stands for transparency and simplicity, you will resonate with people." — Ning Li, Typology and

MADE.com
5. A trustworthy brand helps you retain talent
Honest and transparent marketing is not only a powerful way to retain customers, but can also help businesses find and retain talent. 
Sandle points out that many of the B Corps she works with find it easier to hire, as people feel they're making a difference in joining a purpose-driven organisation. All organisations can create these feelings by applying the same constant detail they exact over their brand in their communications and practices with their employees. 
That trust, that openness and that honesty has to be continuously updated with your employees. That's another way of keeping your employees because they understand the direction of the company." — Kate Sandle, B Lab

UK

6. Startups should focus on a quality customer base over quantity
The temptation to chase large numbers of people in your infancy will be tempting for fledgeling businesses. Li says this is a fool's errand, and that the metric of 'brand awareness' is irrelevant in today's market. 
Startups should instead focus on the quality of their brand, prioritising customer service and delivering on brand promise and targeted marketing to get off the ground. In order to measure 'quality', Li suggests businesses focus on net promoter score (NPS) — the number of people who'd recommend you against those that wouldn't — as a useful metric.
Forget about brand awareness, it's not how big your brand is that matters, but the quality of the brand… For startups that are just beginning their journey, the quality of the brand is so much more important." — Ning Li, Typology and

MADE.com
Want to learn about how employers can improve their relationship with their employees? Our next Sifted Talks is all about employee financial wellbeing — register here.
You can also watch our full Sifted Talk on building a trustworthy brand here: