In just a few weeks, the way startups in Europe do business has been turned upside down. Many governments and companies have advised employees that working from home is the best possible approach to limit the spread of the coronavirus — and offices have become virtual overnight.
For plenty of us, the notion of the office desk has gone out of the window. So we're setting up on dining tables, sofas and beds as our temporary (and perhaps too cozy) work stations. Like many, we at Sifted have been learning the tricks and trades of remote work — from up-keeping productivity, keeping our team happy and, of course, not missing out on our weekly team lunches (thanks Google Hangouts).
We asked our readers too, for their pro tips and advice on how to keep their teams and businesses healthy in this new (and hopefully temporary) world.
Self care
An obvious but often forgotten essential to making sure you remain a pro in your work starts with a bit of TLC. This is the rundown our readers gave:
London-based online travel startup Duffel has a #fitties channel in Slack where some of the team are sharing their workout of the day. Steve Domin, chief executive and cofounder, said: "It hasn't turned into a competition yet but I wouldn't be surprised if that changes quickly." Duffel also has a permanent Zoom room set up so people can go in and hang out. They use a Slack app called Donut, which matches people randomly in the business for a short conversation, remotely.
[caption id="attachment_20625" align="aligncenter" width="1708"]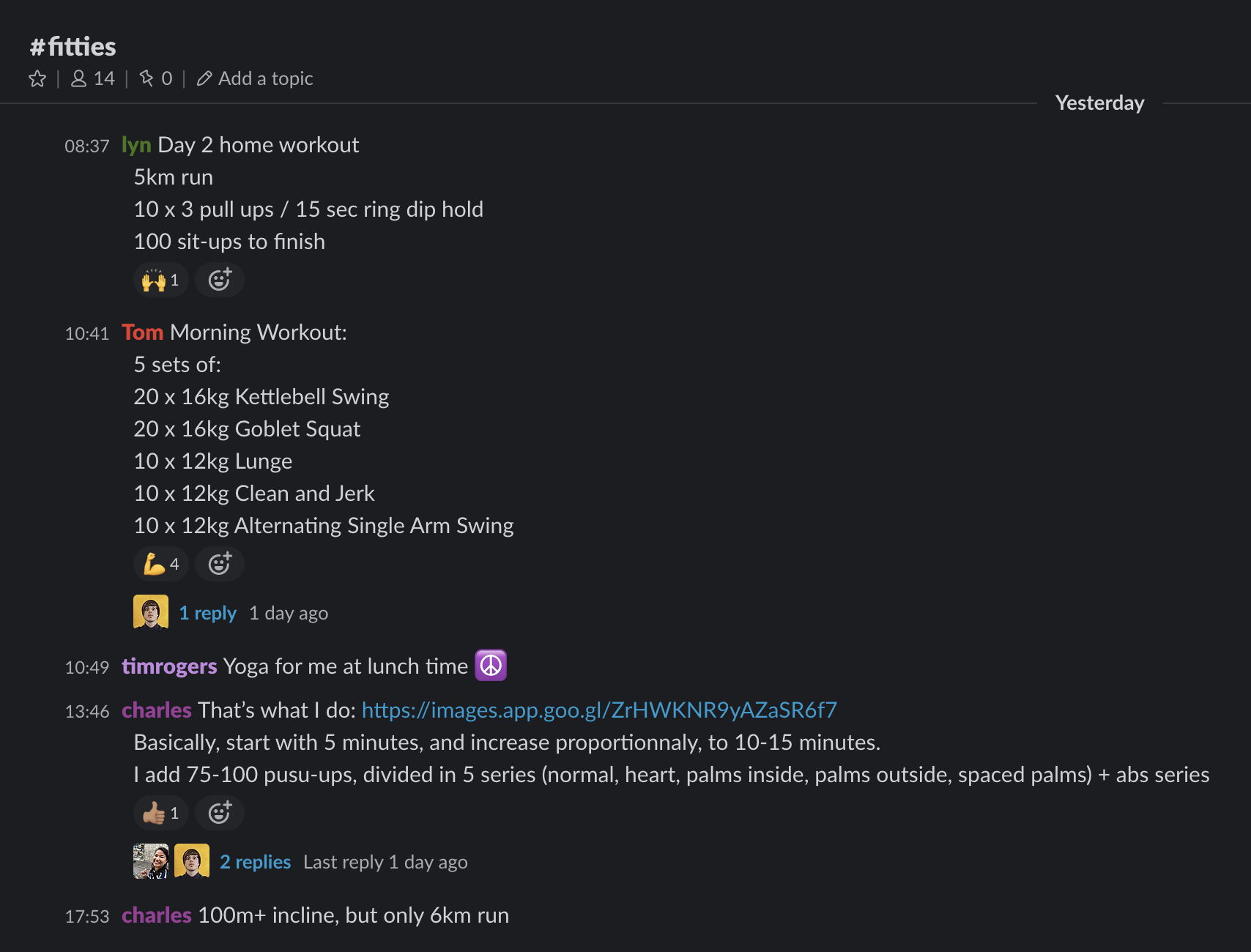 The Duffel #fitties Slack channel.[/caption]
"Have a clear mental and physical barrier from home and work to help you focus. For example, when at the end of the work day whilst I am at home I will close the door of my home study to mentally 'check out' of the office and be ready to show up for my responsibilities at home and be with loved ones." — Sukhi, chief operating officer and cofounder of online marketplace Market Orders.
"In our weekly meeting, our hypnotherapy expert Hazel Gale guided us all through a four minute session to help us destress and centre. It worked so well we decided to roll this out as a live Instagram and YouTube session on Tuesday morning and had nearly 200 people join us for this first session. We're now bookending the week with another session at 8pm and will be making this a weekly way to gather, connect and help our Clementine community of women in business start and end the week well." — Kim, founder at UK femtech startup Clementine.
Keeping the team together
It can be an unusual feeling to suddenly lack the physical presence of your team, so it's important to connect meaningfully to keep the morale going. Here's what our readers say:
"We have set up virtual Tuesday check-ins — where the whole company gets together on Zoom and share updates and as much positive news as possible — including mutual tips on how to get the best out of a day working at home." — Gaby, UK-based co-working space company Plus X.
"Trust in your team is paramount and Slack is obviously a lifesaver. But the most important piece of advice I can give is for each team to have a 15 minute stand-up (video call) scheduled daily. It reminds everyone that the team exists and ensures things don't go off the rails." — Sameer, technology investor at London-based venture capital firm Breadcrumb.
Another reader recommended discussing mental health among your team, friends and family whilst working remotely:

Others have been unleashing their inner chef, going the extra mile with team lunches — sharing their recipes and getting the verdict from the chef teams. 
"We're doing a number of light-hearted things, such as employees submitting photos daily of their lunches, with our in-house chefs naming winners each day. In return for their judging services, the chefs are also sending us all a recipe a day which we can cook at home!" — Sam, press officer at UK-based betting exchange Smarkets.
Virtual lunch is a hit — here's another foodie insight:

Also, virtual yoga has become a thing:
For the first timers
There will be many businesses going into remote work completely blindsided, so if you're in need of first time direction, our readers have your back here:
Sifted Newsletters
Startup Life
Every Wednesday
How (and how not) to run a startup.
"If you haven't run a team remotely before, don't just impose the standard office protocol on people. Instead, everyone can learn from each other if they've found something that works (e.g. an online tool, way of organising their work, communication with clients that's been successful, etc.) and, likewise, if people are struggling with anything, they need to share asap and benefit from the support of their colleagues." — Simon, founder of startup innovation company Wilson Grey.
You might be excited that you can work at home in your comfiest loungewear — but you may discover that you're too cozy to stay motivated:

Combating loneliness
The idea of working from home, possibly alone for a long period of time every day is daunting — but there's heaps of ideas that can help you from social extinction:
"Don't forget the social element. Not everyone has friends/family to speak with so make sure you make time for people to simply have that office banter they're missing!" — Simon, founder of startup innovation company Wilson Grey.
What better way to erase the feeling of loneliness than virtual bring your pet to work day?
This company has popped live puppy cams into their Slack channel to have their four-legged friends at their sides whenever needed. "As of this morning, a live puppy cam has been shared on Slack... gamechanger" — Alexandra, marketing and communications manager at London-based fintech startup Aire.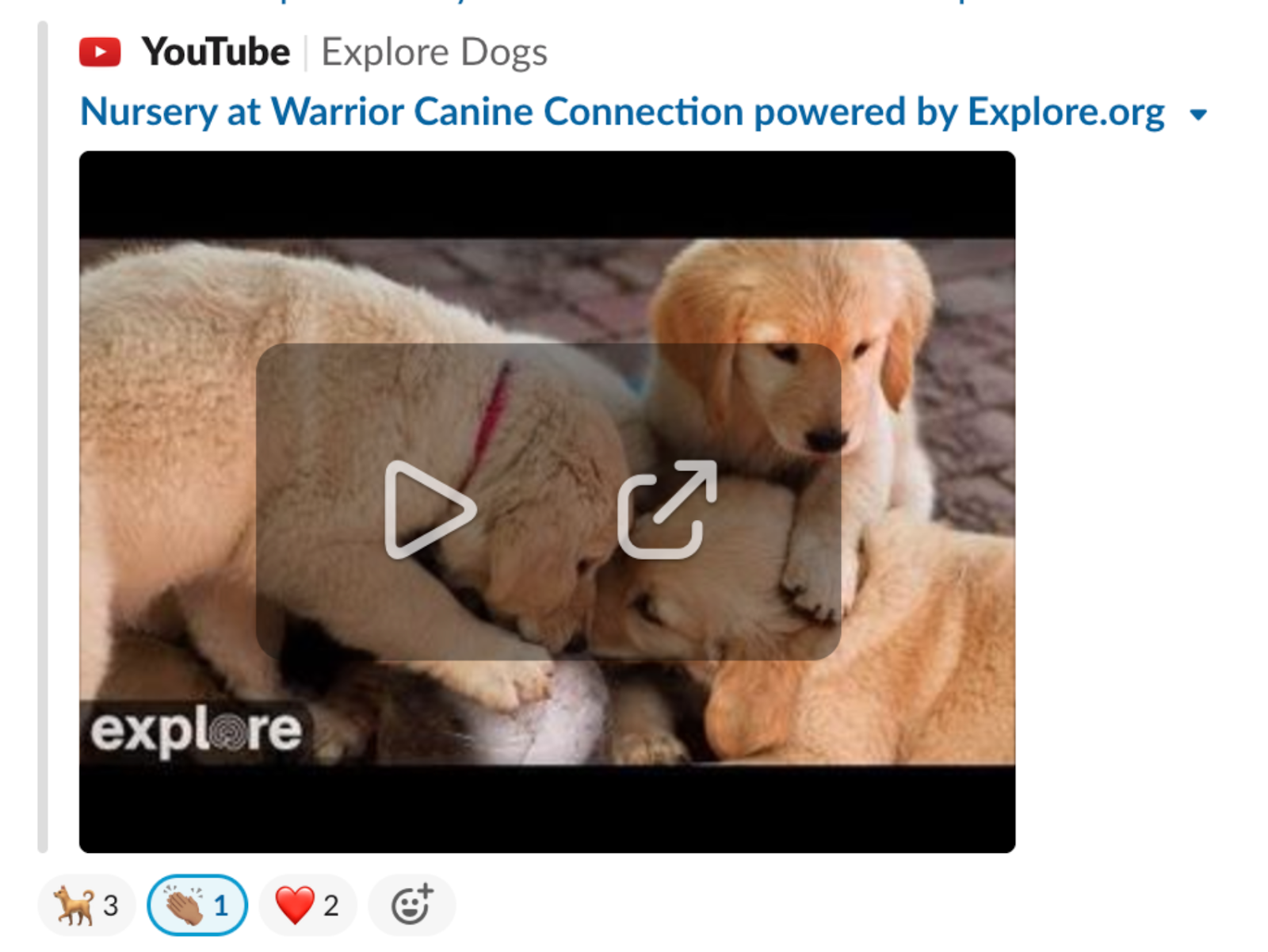 Others have clocked on that pet therapy is holding their sanity together: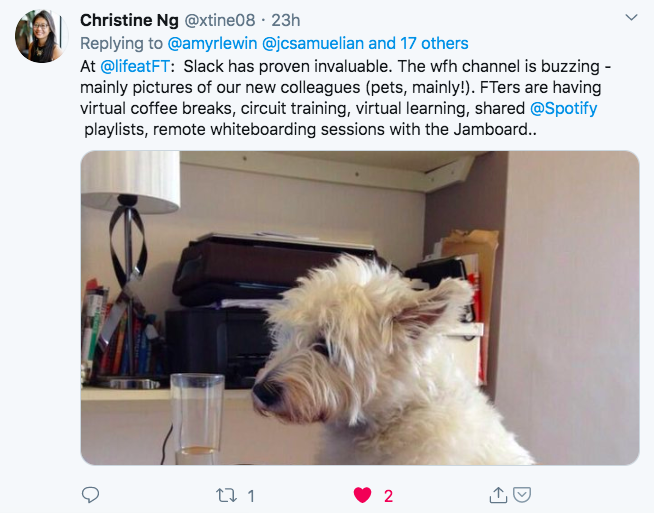 A firm opinion here — what's your go-to working from home video call platform?
Tips for the chief executives
Founders and chief executives are also in for a lot of change — so if you're looking for the best ways to manage and take care of your team, look here for useful answers:
There are three main things that "managers should focus on building psychological safety in their teams", according to Alistair Shepherd, cofounder at UK-based software-as-a-service company Saberr. "Start with clarity: both on what you are doing and how you will behave — put in place regular 1:1s over video chat. We'd suggest once a week at the start, even if you find bi-weekly works in a month's time. Use these to ask about their personal circumstances, concerns and feelings, as much as about your weekly tasks. The more you can build trust and open conversation, the more productive your employees will be. Finally, as a team regularly review progress towards goals and whether the behaviour and processes you have in place are fit for purpose."
Virtual entertainment
Working from home can be quite isolating — but workers are blowing off steam with Google Hangouts and a spot of gaming to top it off:
"InfoSum has introduced a regular lunchtime Google Hangout for the team during remote working… they also use this time to play board games and video games with each other." — James, account manager, UK-based marketing company GingerMay.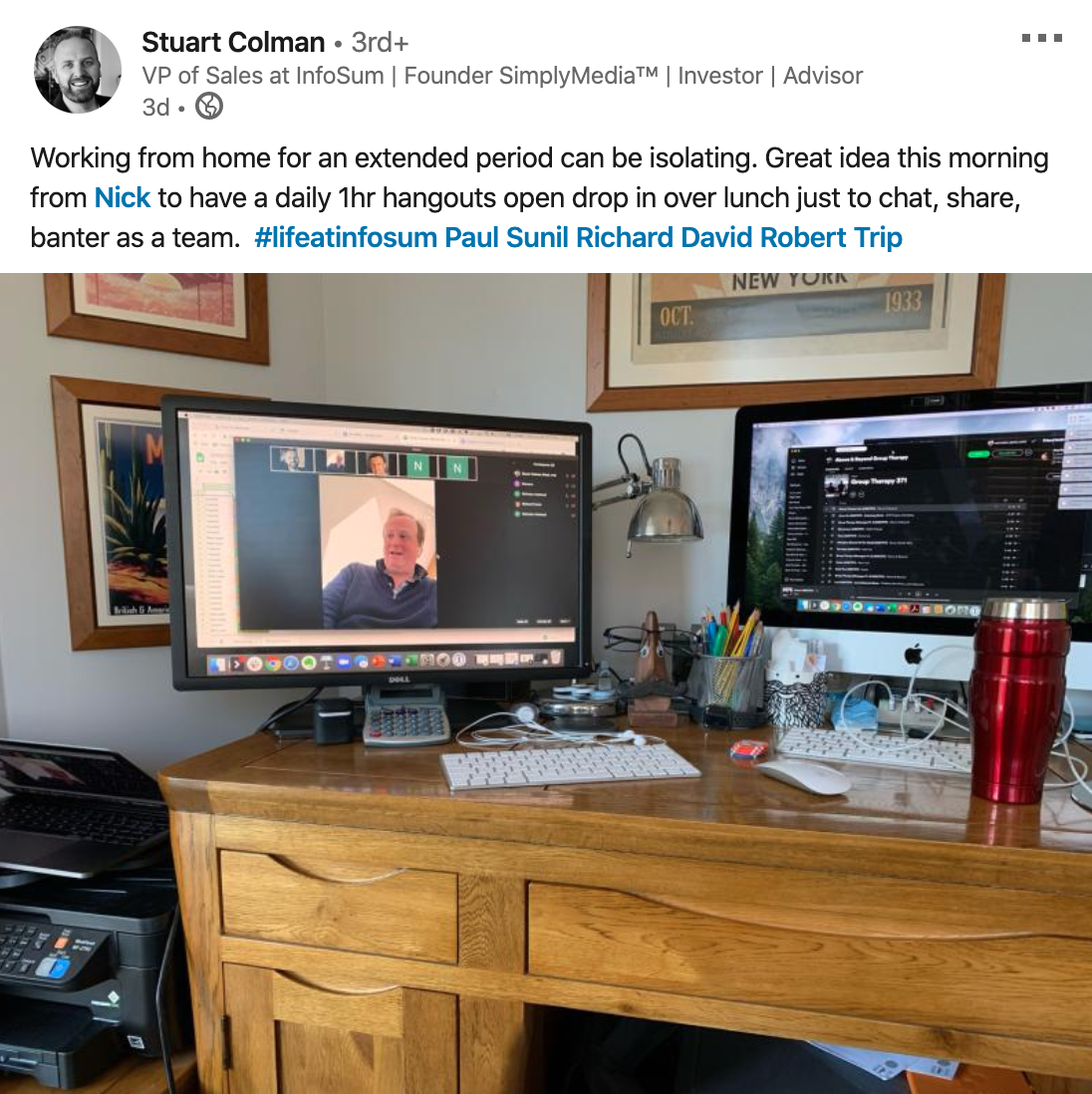 "Bidstack has created a FIFA League between their staff to keep up morale while self isolating or working remotely to alleviate social isolation and to encourage fun interactions and team spirit outside of working hours." — Andy, talent acquisition, Bidstack.
Virtual events
With all the cancelled events swarming the European startup ecosystem, many have switched to virtual events and panels… and even created their own to keep things going:
"The Covid-19 fitness challenge, an organisation-wide fitness challenge. We realise being in isolation can have an impact on health and wellbeing, so for as long as we are on lock down we'll be bringing you a weekly fitness challenge to keep spirits up and your immune system strong. All you need is a small floor space. This week's workout is a 15 minute AMRAP, which means as many rounds of the following as possible in 15 mins." — Seema, senior director of global media at Colorado-based Unreasonable.
For those with children
It's double the work for many, having to take care of the kids while trying to stop their startup from folding:

The weird and wonderful
Some very resourceful posts shared...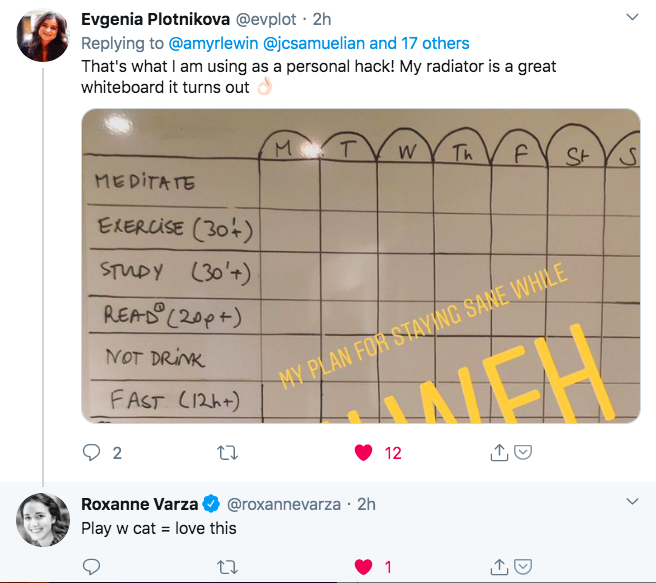 One Sifted reader shared a complete WFH game changer...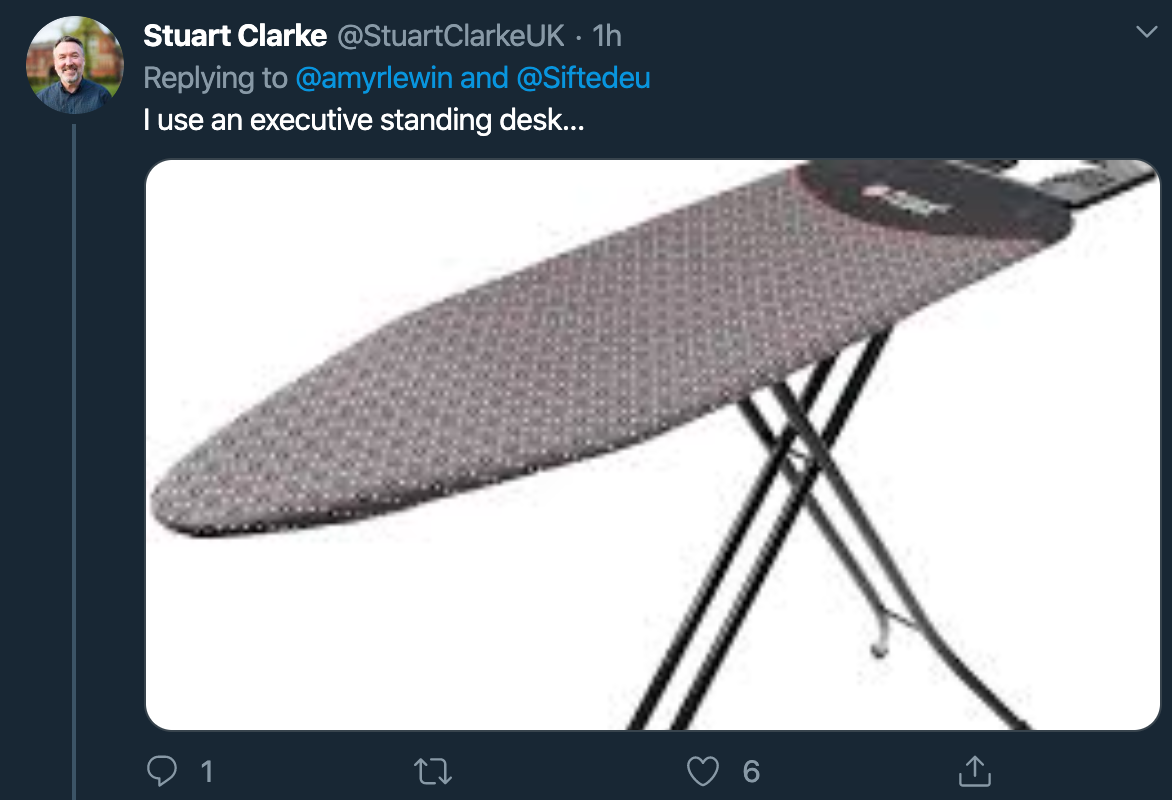 ...and another threw in this bonus tip that'll have you ordering everyone a new 'executive standing desk' once coronavirus has blown over.

Remote working tips
We'd love to keep adding to this list as we all adapt further to WFH life. Get in touch with Connor (connor@sifted.eu).