"The elephant in the room is, of course, Theranos," says Hamish Grierson, who founded UK blood-testing startup Thriva.
Theranos was the much-hyped US startup which claimed to have invented a revolutionary blood test that only needed a single drop of blood. It reached a valuation of $9bn before collapsing spectacularly last year when its technology failed to work.
Despite the bad taste this left in the mouth of some investors, it has not stopped European startups such as Thriva from pushing full throttle into the world of blood testing — although they sometimes have a little explaining to do.
The blood testing market is now set to be worth $62.9bn by 2024. Healthcare-focused blood startups continue to raise millions to build better diagnostic tests, while consumer-facing startups are following genetics-tests-by-post pioneer 23andMe to send blood test kits to customers' homes.
But what's so special about Thriva?
Based just minutes from London's St Bartholomew's, one of Europe's oldest health institutions, Thriva has been built on the idea that blood test kits could keep you out of hospital ⁠— if used to identify and address problems before they spiral out of control. 
This trend for preventative health is catching on: Thriva, founded turned over £2.2m last year and is on track to make nearing £5m in revenue this year.
Investors are paying attention too, pouring £6m into the young company's Series A round last month (bringing Thriva's total pot to £7.5m).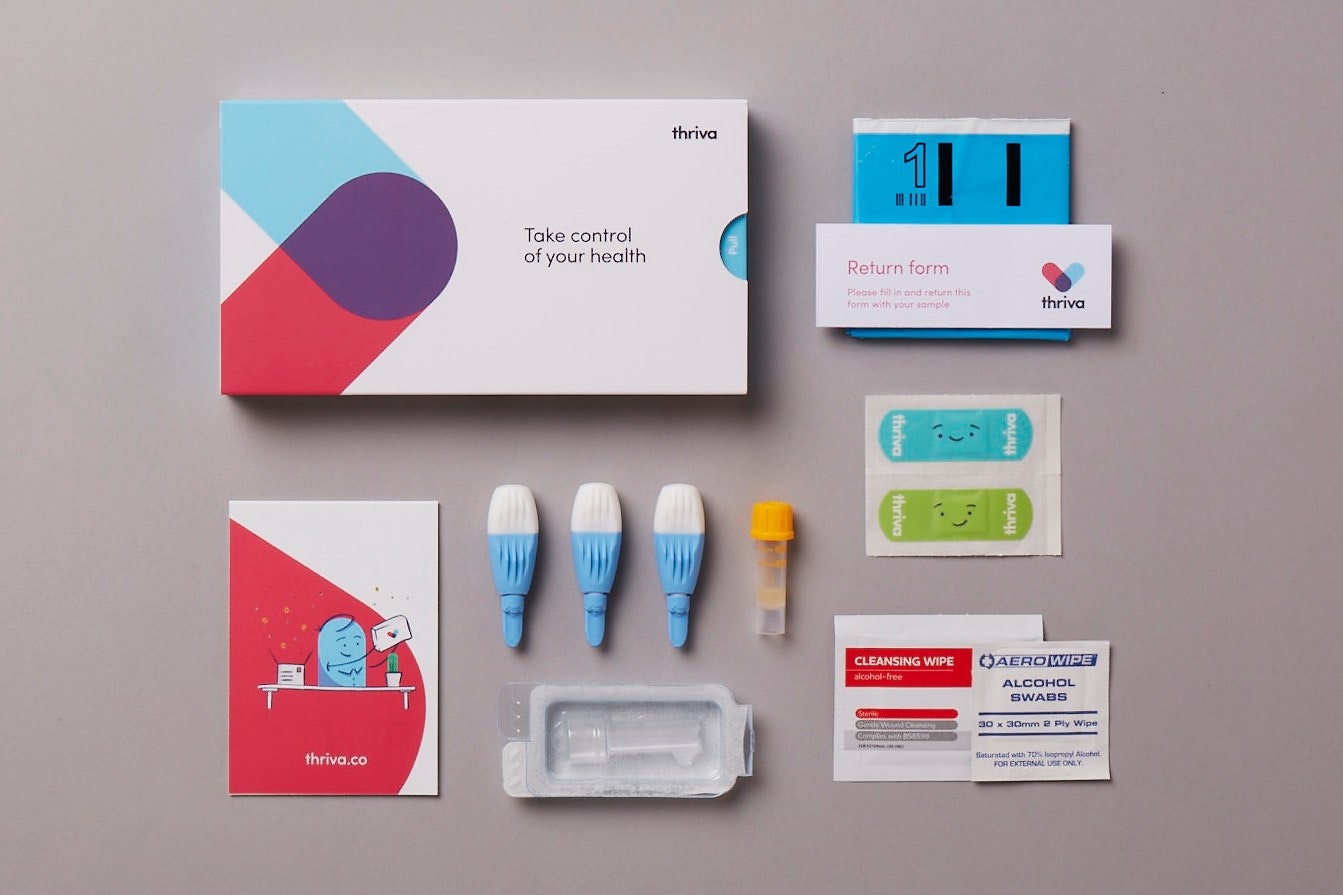 A leader in Europe, the startup has already posted out and processed over 100,000 at-home blood tests. Its clinics have been busy identifying biomarkers in customer's blood (the levels of certain enzymes, hormones or proteins) to keep them informed about things like their iron profile, cholesterol levels, levels of vitamin D, B9 and B12 or their susceptibility to diabetes, liver or thyroid problems. 
Sifted Newsletters
Sifted Newsletter
3x a week
We tell you what's happening across startup Europe — and why it matters.
Most (95%) customers pay £24-£69 to receive a new test kit every three months simply because they are curious about staying well (not because they have chronic health conditions).
We asked Grierson about Thriva's big plan for preventative health, startup partnerships and branded supplements — and, of course, the elephant in the room...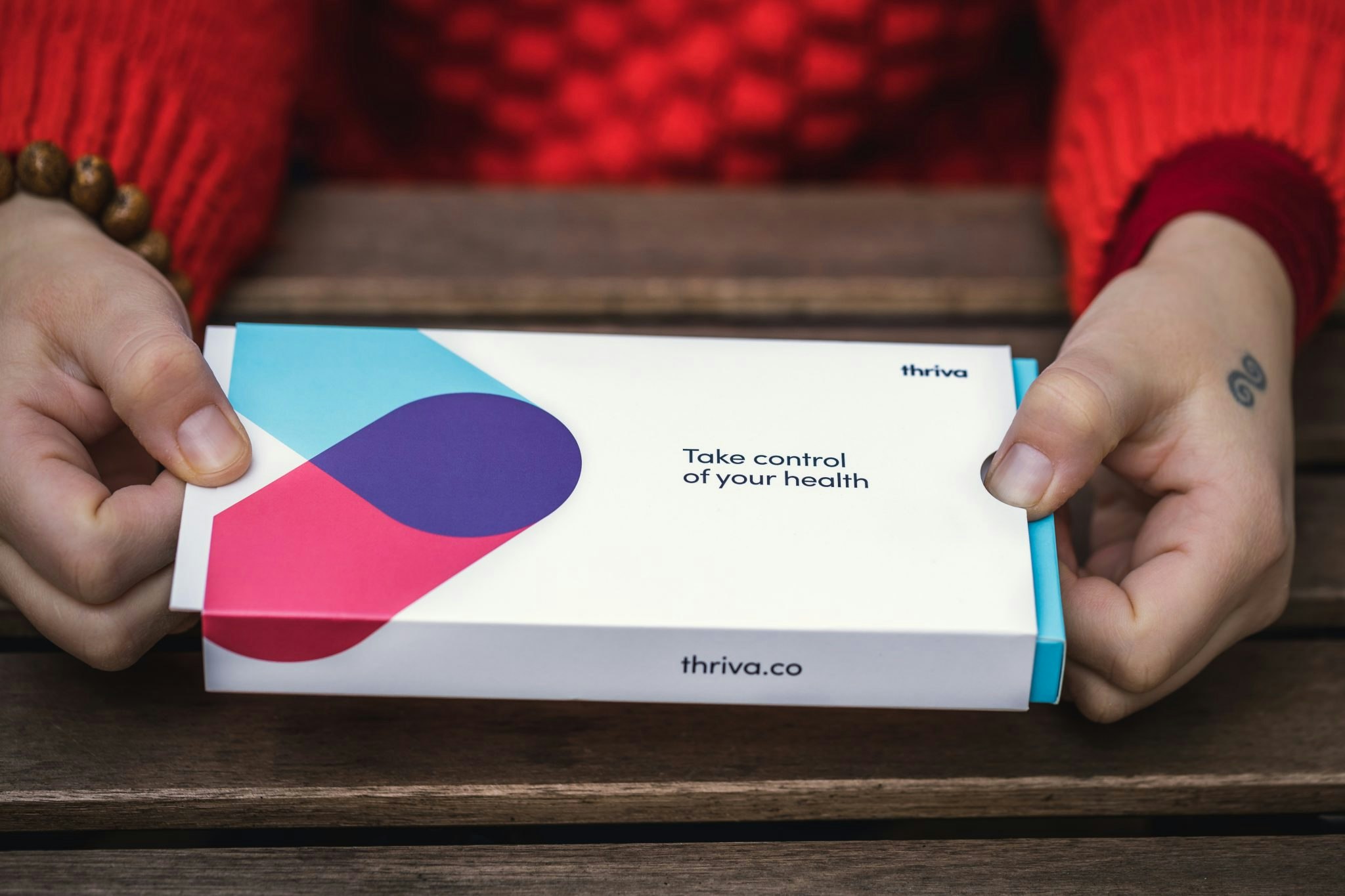 How has the boom in blood-testing startups impacted Thriva?
The elephant in the room is, of course, Theranos. 
The elephant in the room is, of course,

Theranos.
It's had almost zero consumer impact, but heavy investor impact. Investors are obviously very worried. Most are not particularly close to the subtleties of our market and if they walk into a blood-testing company, they're going to ask you about Theranos. 
As soon as they understand how we're different those conversations stop very quickly, but is it frustrating that you get asked every time? Sure.
Did 'Theranos fever' actually help with your early fundraising?
No. I wish it was true. But fundraising has always been pretty challenging. And our last round was not helped by Theranos. 
Most people who've invested in healthcare or drug development and discovery have really no idea or understanding of how to swim upstream and invest in the preventative space. Conversely, when people who've only ever invested in consumer see us talking about blood and arteries and doctors, it's another no no. 
When we came along saying consumer health is the next big thing and it's all about clinical, internal, physiological insight, they just didn't have a box to put that in. 
They hadn't built a thesis for that.
What's the biggest problem you face?
Logical arguments in health often don't win. We know preventative health is a good idea but individuals tend to exist on a 'live today' basis, which means they think it's a really good idea, but don't actually act.
Logical arguments in health often don't

win.
Really, the answer is all about personalisation. How do you understand what journey someone is on? Where do they want to get to? Are they trying to get pregnant, are they trying to improve their marathon time, or are they being proactive about their health to stop a disease they could have seen coming? 
The last six to nine months worth of stuff we've been working on, it's all under the banner of personalisation. 
Is it a mistake for customers to think they can buy a test, identify a problem, and find a solution?
There can be a danger that when you have a hammer, everything starts to look like a nail. 
If your B12 level is absolutely through the floor, it's very unlikely that an oral supplement is going to solve that problem for you. We're trying to avoid creating a solution that necessitates us suggesting things that might not be right for you.
But everyone has to start somewhere and existing in the consumer space, you have to be able to say from day one, I'm going to be able to give you some value. 
There can be a danger that when you have a hammer, everything starts to look like a

nail.
The vast majority of our customers — 95% — are actually subscribers. Longitudinal data tracking is substantially better: it improves sensitivity and specificity, it shows you how your trend lines move when you take an action, it helps you pick things up before they get serious in that idea of preventative health. 
But equally, it's not like there's no value in that original test. 
Would Thriva still have value if the NHS made blood testing easier?
Yes. It's a bit of a misconception that people don't know what good health looks like. People know they should eat fruit and vegetables, that they should drink less booze, do more exercise.
So even if health systems made these [blood testing] services available to you, that's not the problem. The problem is you've got to figure out how to show your value, so that people engage with you in the first place. 
The NHS does actually has an over-45s blood test available nationally but uptake rates are less than 20%. You have to make it relevant and exciting. 
We've seen smaller competitors selling personalised supplements. Do you want in?
There's a bag of Thriva-branded supplements on my

desk.
Well there's a bag of Thriva branded supplements on my desk… so yes, absolutely. We launched the beta version of Thriva-branded supplements about six months ago and eventually, we want the ability to create personalised supplements, although realistically it will be another 12-18 months before we can be price competitive.
We don't want to just walk you up to the end of an information handover. But that could mean servicing you with bespoke content or recommending you other types of investigation too.
How are you expanding the tests you offer?
Our expansion has always been governed by the technology. Since we've been live the amount that you can test accurately on the same volume of blood has increased and you can now test a full cholesterol panel, vitamin D, B12, folates, iron and maybe another biomarker too. 
In January this year, we started offering nutrition biomarkers which might be relevant to people whose personal goals are related to weight loss, and thyroid tests are a really good example of something there's just really bad provision for. 
In 12 months time, you'll see we're about trying to capture all the right types of data. 
What's that total picture likely to combine?
Microbiome gut testing kits are "absolutely not ready

yet
Some of your phenotype data (so your height, weight, age, etc). Then there are deterministic elements like your DNA and how those genes are expressing and there's your internal physiology from a gut perspective. 
We recently spent nine months analysing the microbiome for gut health — it was very much within our wheelhouse. But we came to a fairly firm conclusion that it's absolutely not ready yet. 
Wellbeing is something that's front and centre of most corporate agendas, looking at how you can demonstrate to your workforce that you care. There's a huge opportunity for us to help companies do that better with their employees. 
Will test kits always be your main source of revenue?
It's entirely possible that there will be another core revenue stream. There might be a consultation that connects you to an epidemiologist or a nutritionist. There might be a program that we're going to put you on, or off-hand you to a [third party] expert, where they've already built something that's really world-class, like Quit Genius for smoking cessation.
We're not galloping at the need to leave the

UK
We're already in serious discussions with at least a dozen startups from the UK, Europe and the States who we might want to partner with including PushDoctor, Nightingale health, Oviva, Doctify and Lifebit.
You're only available in the UK right now, is world domination on the cards?
Keeping English language is the priority, although that doesn't actually rule out parts of Europe, especially where there's a precedent for brands launching in English.
If you internationalise language wrong in a medical context... well, we don't want to run the risk of doing it poorly. We also don't want to get something that's technically right but doesn't engage people. 
We're not galloping to leave the UK because we think there's a huge opportunity to add value here first.